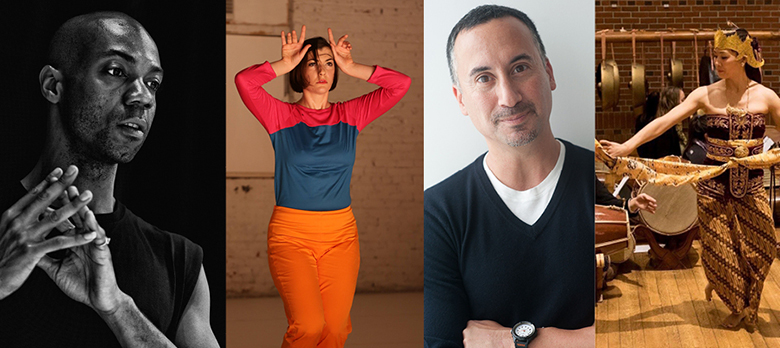 Dear Friends of the Center for the Arts,
This week, Chair of the Dance Department and Professor of Feminist, Gender, and Sexuality Studies Hari Krishnan introduces the four choreographers that will be featured in the Fall Faculty Dance Concert "The Perseverance Project" on Saturday, October 31, 2020 at 8pm as they share more about their work. 
The Dance Department's fall faculty dance concert The Perseverance Project features our new extraordinary dance faculty. Milka Djordjevich, Doug Elkins, Maho Ishiguro, and Shamel Pitts will share their vibrant choreography along with fascinating insights into their creative processes and collaborative adventures. The Perseverance Project promises to be a spectacular virtual evening of dynamic dance, urgent political concerns, thoughtful representations of dance history, and much more. We invite you to engage with these brilliant artists.
Visiting Assistant Professor of Dance Milka Djordjevich
"I create choreography that operates inside and outside dance traditions in order to blur the distinction between 'dance' and 'non-dance.' In particular, I am interested in subverting Western dance's history, tradition, codification, and embedded patriarchy, without creating transgressions. I participate in a long and layered process of inquiry, which continually questions the mode of production from which I work in order to examine how it is embedded in a cultural hierarchy. In the form of a self-narrated pseudo video essay, in collaboration with filmmaker Justin Streichman, we visit my garage/studio in Los Angeles, where I currently reside. There I unpack performance remnants as a lamentation of past work and reflect on the impossible return to live performance as we knew it. My last completed work, Kinetic Augmentations (2019)—a solo made in correspondence with Fluxus Artist Alison Knowles's House of Dust at the MAK Center/Schindler House in Los Angeles—reflects my practice, a going-between of a domestic/private environment to a performative/public reality. I reflect on what was, what is, and what can be."
Visiting Associate Professor of Dance Doug Elkins
"I began my dance career as a b-boy, house head, capoeirista, and voguing. By the time I came into New York's contemporary dance scene, I had thoroughly absorbed the hip hop ethos of bricolage, appropriation, sampling, and remixing. I revel in the way that the resonance of dance forms changes as they are put into new contexts and layered alongside and through one another. My dances have been called 'supercolliders where dissonant cultural referents create a cultural Big Bang.' I am interested in multiplicity. I make dances that hopefully attempt to represent the world as a tangle or jumble or ball of yarn, to represent the world without in any way diminishing the essential complexity of it or, to put it better, the simultaneous presence in it of very disparate elements that converge to determine each event."
Visiting Assistant Professor of Dance Maho Ishiguro MA '12 Ph.D. '18 
"I am performing a piece called Gambyong Retnokusumo, a court style Javanese dance piece from the royal court of Mangkunegaran, Solo, Indonesia. The dance was choreographed during the reign of Mangkunegaran VIII (1944–1987), and depicts a young woman of coming of age, adoring herself, and glowing in her beauty. I am also sharing some aspects of my current research on dances from Indonesia. Audiences should definitely attend this concert to witness the strength, wonder, and hope the diversity of our dance styles bring to Wesleyan, to our students, and the world beyond."
Visiting Instructor in Dance Shamel Pitts
"My choreographic aesthetic is fundamentally connected to Gaga, the movement language created by Israeli choreographer Ohad Naharin. As an artist and citizen, I have a large curiosity towards deviation. This inspires me to make movement-based art that reflects its time. The work that I will share for The Perseverance Project exclusively is a behind the scenes intimate viewing of the creation process for my most recent work in progress duet Touch Of RED, which was filmed by art cinematographer Taylor Antisdel with performers Tushrik Fredericks and myself. All filming was within the most updated COVID-19 safety protocols at New Live Arts."
Fall Faculty Dance Concert: The Perseverance Project
Saturday, October 31, 2020 at 8pm
FREE! RSVP required for access to virtual event.