An interview with Cheryl Tan '11 by Sarah Wolfe '12.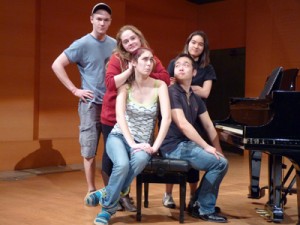 Cheryl Tan, a senior music and theater major, will present her senior project The Old Maid and the Thief by Gian Carlo Menotti on Sunday, April 10 at 7pm in Crowell Concert Hall. I sat down with Tan, who plays Laetitia, to discuss the performance and her process. The opera, one in a series of one-act operas composed by Menotti in the middle of the twentieth century, follows the tradition of radio opera. Tan produced the piece more as staged reading than as a traditional opera.
The story takes place in the home of two women: the old maid Miss Todd (Meghan Twible '12) and her serving maid, Laetitia (Cheryl Tan '11). They are visited by a beggar, Bob (Matthew Getz '14) who requests food, "and they let him stay because they're lonely and sad," as Tan summarizes.  Worrying that Bob may be a recently escaped fugitive from a few towns over, they nonetheless allow him to stay in their house in order stave off their loneliness. In order to keep him there, they begin to steal from other townspeople. "It's really about a bunch of awful people being awful to each other, which is great," quips Tan.
Chelsea Goldsmith '13, rounds out the cast by playing the neighbor, Miss Pinkerton. Tan chose this particular Menotti opera because it asks for a small cast.  Originally drawn to the Italian American composer through a challenging aria she encountered, Tan decided early on that she did not want to perform a solo recital. Opera has not been one of Tan's focal points in her time at Wesleyan, but is the culmination of her work with Voice Teacher Priscilla Gale, who specializes in the operatic style. "I've done a lot of musical theater, jazz, theater and taiko," says Tan, "[but] I've been with [Priscilla Gale] for three years, and she's really made my voice into what it is today. The great thing about this for me right now is that I'm singing every day. Which means everything's getting stronger, and that's really exciting."
The Old Maid and the Thief offers the chance to experience a memorable performance. Sung in English, the cast features four excellent Wesleyan singers, as well as Andrew Chung '11 on the piano. "Going to be great," ends Tan, "Going to be so good."
"The Old Maid and the Thief" will be presented in Crowell Concert Hall on Sunday April 10 at 7pm. Admission is free.