CFA Arts Administration Intern Monica M. Tinyo '13 talks with Lindsay Kosasa '13 and Kelsey Siegel '13 about the Fall Senior Thesis Dance Concert (Oct. 26-27).
Tonight and Saturday, Wesleyan dance majors Lindsay Kosasa '13 and Kelsey Siegel '13 present the first installments of their theses at the Fall Senior Thesis Dance Concert. This weekend's performances are only a part of each student's thesis project, which will include one choreographed work per semester and an accompanying research paper. I had the opportunity to talk with Kosasa and Siegel about their theses, and will share what I learned from them here.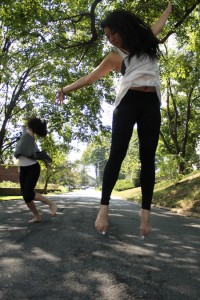 Both Kosasa and Siegel assembled teams of five "movers"—dance majors and non-majors alike—to perform their works. Both consciously chose to describe the performers as "movers" rather than "dancers", which fits with their conceptual frame of dance. Both Kosasa's and Siegel's projects are interdisciplinary and focus on concept more than technique, reflecting their modern dance backgrounds. While Kosasa's and Siegel's projects are different in both concept and process, both were inspired by each student's second major: Kosasa is a Dance and East Asian Studies double-major and Siegel is a Dance and Math double-major.
Kosasa's piece is an exploration and expression of trauma through dance, and she utilized different intellectual approaches to movement in post-war (post-atomic bomb) performance art, visual art and literature for inspiration. Although Kosasa is not in her piece (standard practice for Wesleyan dance theses), she will be operating a projector during the performance that will illuminate a screen behind the movers. She will produce "textures" and imagery through live manipulation of materials like water, food coloring and cornstarch in a box that will be captured by a camera above. The imagery and textures are used as a way to extract movement qualities from the movers that evoke Kosasa's interpretation of trauma. This projection is inspired by Kosasa's experience at Butoh workshops in Japan in the spring of 2012.
Kosasa wanted the dance to form naturally through collaboration rather than be dictated by specificities in her research. She only shared her topic with the movers later in the process because she didn't want to have the movement be theatrical or determined by individual movers' unavoidably and understandably narrow notions of trauma.
Siegel, on the other hand, did give her movers direction, explaining enough about her project to guide the movers. However, like Kosasa, she limited her explanation in order to help the dance manifest organically. She directed the movers with open-ended questions: How do you create order in your own life? What is order? How do you move/orient yourself in different planes? And what does it mean to move horizontally or vertically? When performing, the movers are also directed by a grid created by Siegel as a physical manifestation of an x-y plane; the performers move in, out and through the grid throughout the performance.
In her project, Siegel illuminates and simultaneously questions how we organize ourselves in space. She has been researching concepts and formulas related to the grid, focusing on how we draw lines and curves in space. She explains that although there are no "right" directions in modern dance, certain movement styles move across a certain plane. Her research has led her to understand that many artists, especially modern choreographers, use mathematical perspective in constructing pieces without realizing it.  She is also researching chaos theory and how it applies to improvisation in dance. Siegel explains that much of her research is conducted through the actual process of creating the dance in her own examination of the spatial organization of the movers.
Kosasa and Siegel work to manifest an idea through the body in a way that is relatable to a variety of audience members. You don't need to understand techniques of dance, chaos theory, or post-war performance art to understand the concepts that the artists are grappling with or to enjoy the performance.
Please join us at the Bessie Schönberg Dance Studio, 247 Pine Street this weekend to celebrate the work of Kosasa, Siegel and their movers. Don't hesitate; tickets are selling fast!