Center for the Arts Director Pamela Tatge discusses the development of the work "SPILL" by Leigh Fondakowski. Ms. Fondakowski will give a free talk about the future of "SPILL" on Thursday, October 30, 2014 at 7pm in CFA Hall.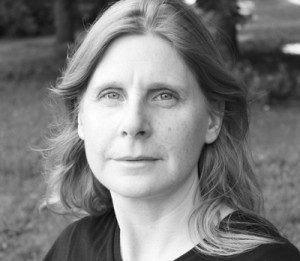 As the third Outside the Box Theater Series event of the year, playwright Leigh Fondakowski will give a talk on Thursday, October 30, 2014 at 7pm in CFA Hall.
In 2011, Leigh Fondakowski co-taught The Deepwater Horizon Tragedy: A Scientific and Artistic Inquiry with Barry Chernoff in the College of the Environment. The goal of the course was to teach students the science of the Gulf Coast region and the ecological impact of the 2010 Deepwater Horizon oil spill, as well as artistic tools and methods that enabled them to understand the science at a deeper level.
As part of the course, Ms. Fondakowski and Mr. Chernoff accompanied the students on a ten-day trip to the Gulf Coast region visiting laboratories and research institutions, touring wetlands, and meeting the people who live in the affected communities. Upon their return, the students created performances that combined science and art to tell the story of the effects of the spill.
This course inspired Ms. Fondakowski to write a new theatrical piece, commissioned by the Center for the Arts and funded by the Doris Duke Charitable Foundation and Wesleyan's Creative Campus Initiative, which she entitled SPILL.
Ms. Fondakowski went back to Louisiana and collected over 200 hours of stories in the following months from people who lived in the parishes hardest hit by the disaster. In collaboration with visual artist Reeva Wortel (American Portrait Project),  Ms. Fondakowski created SPILL, which had its first staged reading at Wesleyan in February 2012.
Ms. Fondakowski returned to Wesleyan in the spring of 2013 to teach playwriting in the Theater Department.
Since then, Ms. Fondakowski has continued to work on the piece, including a presentation at the Culture Project's Women Center Stage Festival in New York in July 2013, followed by the premiere in March 2014  at the Reilly Theatre at Louisiana State University, performed by Baton Rouge's Swine Palace.
In her talk this Thursday, Ms. Fondakowski will share the journey that her play has taken since she first showed it at Wesleyan, and will discuss its path for the future.
We hope you can join us.
Talk by Leigh Fondakowski on her work SPILL
Thursday, October 30, 2014 at 7pm
CFA Hall
FREE!
An Outside the Box Theater Series event presented by the Theater Department and the Center for the Arts.