Arts Administration Intern Joanna Bourain '12 talks to Kelsey Siegel '13 and Visiting Instructor in Dance Clyde Evans about Rennie Harris Puremovement.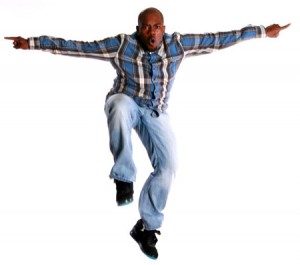 On Friday September 30 and Saturday October 1, Rennie Harris Puremovement, a hip-hop group from Philadelphia, will showcase a performance in the Center for the Arts Theater. The company, started in 1992 by hip hop veteran Rennie Harris, aims to drive hip hop away from its current stereotypes and commercial manifestations and back to its urban street forms through lively performances. I sat down with dance major Kelsey Siegel '13 and Visiting Instructor in Dance Clyde Evans to discuss the importance of this performance.
Kelsey Siegel, a member of Wesleyan's Fusion hip hop dance group, sat down with me to talk about the significance of this performance. Kelsey explained that in her opinion, "hip hop is an important dance form because its expressiveness and liveliness can portray much more than just a narrative."  She explained to me that Rennie Harris Puremovement is important because the group embeds a social message about hip hop within their dancing that battles stereotypes built up the media. "Hip hop is also a much more accessible dance form that allows for a hybridity of movements, dance styles, and cultures. This fusion of dance styles and culture is evident in Rennie Harris Puremovement's integration of ballet-like moves, West-African body movements and gymnastic  break dance moves. They've taken a dance style developed in the street and have brought it into a theater, which allows for the dance form to be considered from a more critical perspective."
Clyde Evans, Jr. is a Visiting Instructor in the Dance Department and is teaching two hip hop classes this semester.  Also from Philadelphia, he was a founding member of Rennie Harris' company.  "This [event] will not only broaden the experience of the traditional theater-goer, it may also inspire or even prompt artists to rethink presentation/choreography of their art."  Evans is excited to have his students see the company, and remembering what it was like to go on tour with the company, he's also excited for the dancers. "The experience of traveling as a dancer and the well-rounded perspective of the world as seen through the eyes of an artist – it's priceless. It's amazing. It's flying without wings. So my excitement is really for them."
The company will present repertoire that spans its 20 year history set to music by the Headhunters, Marvin Gaye, Nina Simone, Parliament Funkadelic, Groove Collective, and others.
Rennie Harris Puremovement
Friday, September 30 & Saturday, October 1, 2011 at 8pm
CFA Theater
Pre-performance talk with dance scholar Debra Cash on Friday at 7:15pm in CFA Hall
$23 general public; $19 senior citizens, Wesleyan faculty/staff, non-Wesleyan students; $6 Wesleyan students
Rennie Harris will give the Cynthia Novak Lecture entitled "Hip Hop History and Culture: Rage, Resistance and Regeneration" at 7pm on Thursday, September 29 at The Russell House, 350 High Street. There will also be a dance masterclass for intermediate to advanced students on Saturday, October 1 at 11am in the Bessie Schönberg Dance Studio, 247 Pine Street.