Center for the Arts Director Pamela Tatge talks about the commission and research process for Rinde Eckert's "The Last Days of the Old Wild Boy" (Nov. 15-17).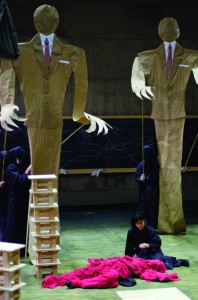 I met Rinde Eckert for the first time in 2008 at a gathering of universities who had been awarded Creative Campus grants from the Association of Performing Arts Presenters.  Rinde had just finished creating a work entitled Eye Piece at his alma mater, the University of Iowa. He worked with theater students and faculty to research the effects of macular degeneration and the experiences of people dealing with eye disease, including those who have lost or are losing their vision.  A Grammy Award-winning musician, writer, composer, librettist, and director, Rinde is one of this country's most innovative performance artists whose work spans music genres of all kinds, experimental theater and dance.  When he spoke about his work in Iowa, I was struck by his generosity of spirit—how he took students into his production that other faculty members were unable to cast in their productions.  I saw how moved he was by the process of making the work and how it was every bit as meaningful to him as the end product.  I thought, this person can collaborate with anyone in the world, but he chooses to work with university students—this is a unique and special artist, a perfect fit for Wesleyan.
The Center for the Arts is in year three of the four-year Creative Campus Initiative, funded by The Andrew W. Mellon Foundation. One of the Initiative's primary goals is to support generative artists in theater, music and dance (including faculty artists and visiting artists) who work with scholars and materials in both arts and non-arts disciplines to advance the artists' research and extend the arts into campus curricular and co-curricular life.
Rinde became an ideal candidate for a commission.  We invited him to Wesleyan in November 2010 (he remembered his first trip to Wesleyan was when he was attending graduate school at the Yale School of Music). Rinde Eckert has built a dynamic theatrical logic that he describes as "fiercely interdisciplinary." When Rinde met with the Theater Department and Center for the Arts staff he discussed the idea of writing a play about "otherness." In the spring of 2011, Eckert was invited by the Theater Department to create a work over the course of 2012 that would result in a Department production in the fall of 2012, devised by Eckert, faculty and visiting designers, and theater students.
Over the course of the two years, Eckert was in regular conversation with Kari Weil, University Professor of Letters at Wesleyan who has published widely on theories and representations of animal otherness (Thinking Animals: Why Animal Studies Now, 2012). He conducted a module in Weil's spring 2012 course, Thinking Animals: An Introduction to Animal Studies. In addition, he discussed his ideas extensively with John Kirn, Chair of Wesleyan's Neuroscience and Behavior Program. He also presented a Music Department Colloquium and met with other faculty members across the campus.
During the summer of 2012, Eckert was awarded a Creative Residency by Wesleyan's Institute for Curatorial Practice in Performance (ICPP). He spent a week working on the piece in the Bessie Schönberg Dance Studio; discussing his creative process with ICPP students and students at the Center for Creative Youth; working with music collaborator Ned Rothenberg; and meetings with scenic designer and Adjunct Associate Professor Marcela Oteíza to prepare for the fall rehearsal period.
The Last Days of the Old Wild Boy emerged as a work about a man raised by wolves who finds himself toward the end of his life at the top of the food chain. Powerful and erudite, he longs for a return to the wildness of the wolf he was—but how does one recover one's original, less conditioned or acculturated self?
Marcela became an essential collaborator in the development of the piece.  She devised a visual identity for the work anchored in 144 small wooden benches that measure 10.5" x 18" x 8".  The benches are unfinished, in their natural state, but at the same time, they are hand-crafted, "man-made."  The actors arrange them horizontally when they form the camp-fire but as the world of the play becomes more "civilized," vertical structures emerge.  As the play develops, the actors literally sculpt the set before our eyes.  The effect is tremendous.
In his program note for The Last Days of the Old Wild Boy, Rinde writes: "I've been thinking about nature and culture. I've been considering wolves. I've been interested in our self-descriptions, the line we draw between ourselves and the rest of everything. We are storytellers. We tell stories around the fire, protected by it, warmed by it, and if we get too distracted, burned by it."
This is a play with big ideas enacted by Rinde Eckert and eight student actors: Sivan Battat '15, Solomon Billinkoff '14, Mikhail Firer '13, Audrey Kiely '13, Matthew Krakaur '14, Jiovani Robles '13, Alma Sanchez-Eppler '14, and Christine Treuhold '13.  This is a world premiere, developed by an extraordinary artist with the help of Wesleyan faculty members and undergraduates—don't miss this, it's Wesleyan history in the making.
The Last Days of the Old Wild Boy
World Premiere
Written and directed by Rinde Eckert
Performed by Rinde Eckert and Wesleyan students
Thursday, November 15 & Friday, November 16, 2012 at 8pm
Saturday, November 17, 2012 at 2pm & 8pm
CFA Theater
$8 general public; $5 senior citizens, Wesleyan faculty/staff, non-Wesleyan students; $4 Wesleyan students
Click here to watch a preview video of "The Last Days of the Old Wild Boy" which features interviews with Rinde Eckert and Alma Sanchez-Eppler '14.