CFA Arts Administration Intern Chloe Jones '15 talks to Rutherford Chang '02, who will be in residence in Ezra and Cecile Zilkha Gallery for the free "We Buy White Albums" event on Saturday, November 2, 2013 from 2pm to 6pm.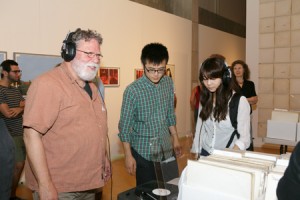 Rutherford Chang '02 purchased his first copy of The Beatles The White Album at a garage sale at age fifteen.  Since then he has acquired 856 more copies, all first pressings.  His collection of 857 White Albums is currently on display in Wesleyan's Ezra and Cecile Zilkha Gallery as part of The Alumni Show II.
The installation artwork, We Buy White Albums, displays 100 of them on a wall and the rest in bins, à la record store, that visitors can browse, admire, and even listen to on a record player. Mr. Chang also presents a new version of the album, which he created by layering and overlapping the 100 copies displayed on the wall.
When The Beatles released The White Album in 1968 over three million original copies flooded record stores.  Except for the band's name embossed in small black font and a serial number in the bottom right-hand corner, the albums appeared in identical stark white sleeves.  Now, no two White Albums are the same, each having aged in its own unique way over the past forty-five years.  Some have yellowed more than others, most are scratched or water-stained, and many have been treated like blank canvases for doodles and personal notes.
Mr. Chang's installation pays homage to the iconic album as a cultural artifact, an ever-changing relic from the past, an opportunity for reinvention, and an artwork in and of itself.  "They have all become these unique historic items," says Mr. Chang.  "They all sound slightly different because of the age."
Working with found objects has always interested Mr. Chang.  At Wesleyan he incorporated news publications and collage into his senior thesis, and he has continued to play with reinventing existing materials in his art.  In this way, We Buy White Albums is conceptually linked to much of his previous work, although the installation is far from a two-dimensional collage.  "It's related in that it's working with this already existing cultural material, and putting it together or rearranging it so you can see something new in it," he explains.
The installation also signifies a departure from his previous work, which never before incorporated music or sound to this degree.  For his recent exhibition of We Buy White Albums at Recess in New York City, he created this new version of the album from layering the 100 copies displayed on the wall.  All 100 albums begin to play at the same time but then diverge and drift apart due to how they've warped and aged over the years.  Although most of the tracks are not drastically different from one another, some are as much as a minute off from others.
Just as each White Album continues to change and evolve, so does the installation as Mr. Chang adds more copies to his collection. Of over three million first pressings in existence, he has 857 but never stops looking for more.  "I suppose it [We Buy White Albums] could be ongoing until I get all of them, so I have a long way to go," he jokes.
Initially purchased primarily from record stores, he now receives more and more donations.  "A lot of people came to me with their albums," he says of his recent exhibit at Recess.  "They traveled really far to give me their White Albums, and I met a lot of people then who had had their album for forty-five years."
This Saturday, November 2 from 2pm to 6pm, Mr. Chang will be at the Zilkha Gallery for an exciting performance event as part of this year's Homecoming/Family Weekend.  We encourage you to bring your own White Album (if you have one!), or perhaps dig through the dusty boxes in your parents' closets to unearth one.  Either way, we encourage you to bring yours to the gallery this Saturday and contribute it to this truly one-of-a-kind installation.
"We Buy White Albums" Event by Rutherford Chang '02
Saturday, November 2 from 2pm to 6pm
Ezra and Cecile Zilkha Gallery
FREE!
Browse and listen to a collection of over 850 first-pressings of The Beatles' 1968 album known as "The White Album," and sell your copy to Rutherford Chang '02. Mr. Chang will offer up to $20 for albums brought to Zilkha Gallery, and happily accepts donations as well.