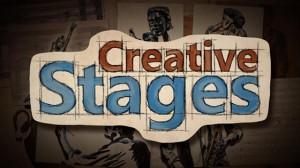 Connecticut Public Television (CPTV) premieres the original documentary Creative Stages, hosted by Ed Wierzbicki, on Friday, November 28, 2014 at 8pm. This half-hour special is devoted to the arts, as Mr. Wierzbicki takes viewers "inside the creative process" while interviewing Connecticut artists and exploring local arts organizations, including Wesleyan University's Center for the Arts.
Hear from Pamela Tatge, Director of the Center for the Arts, as well as from visiting artists including Margaret Jenkins (Artistic Director of San Francisco's Margaret Jenkins Dance Company), Anna Snow, Kerry Andrew, and Sarah Dacey of London's Juice Vocal Ensemble, and Juliana Romano '04 (featured in the exhibition The Alumni Show II in the Ezra and Cecila Zilkha Gallery), about the importance of this creative space to Wesleyan University and its students, as well as to the art world at large. The segment also includes footage of Liz Lerman Dance Exchange's Ferocious Beauty: Genome, the Wesleyan Theater Department production of The Seagull, and a co-taught course by Professor of History and East Asian Studies William Johnston and Visiting Artist in Dance and the College of East Asian Studies Eiko Otake.
The program will also feature Javier Colon, the Yale University Art Gallery and artist Red Grooms, Waterbury's Palace Theater and the Waterbury Arts Magnet School, and the Haven String Quartet at New Haven's Lyric Hall.