Pamela Tatge, Director of the Center for the Arts, shares the highlights from a discussion earlier this week in South College with the choreographers Jawole Willa Jo Zollar and Nora Chipaumire about their work and the development of the piece "visible", which will have its New England premiere in the CFA Theater on Saturday, October 6 at 8pm.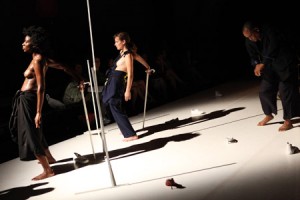 When Nora Chipaumire fled Zimbabwe (formerly Rhodesia) in 2000, she was pursuing a law degree. After moving to New York, she discovered dance and the work of Urban Bush Women.  "In Rhodesia, I was not a person. Part of leaving Zimbabwe for the U.S. was about becoming human. I discovered that what I was most interested in was advocacy.  The idea of advocacy exists in both the law and in dance.  In dance, there is an advocacy that is immediate, human—and not on a piece of paper."  Nora Chipaumire and Jawole Willa Jo Zollar (founder and Artistic Director of Urban Bush Women) spoke at an informal lunch with Wesleyan faculty and students on Monday. Together, they have created visible, which will have its New England premiere on Saturday night in the CFA Theater. Ms. Chipaumire won Wesleyan's Emerging Choreographer Award (at the annual DanceMasters Weekend) in 2007;  Ms. Zollar has a history with the Center for the Arts, as a member of the Center for Creative Research and having brought her company to Wesleyan twice in the past six years (including DanceMasters Weekend in 2006).
Ms. Chipaumire met Ms. Zollar when she auditioned for Urban Bush Women. Ms. Zollar talked about how striking Ms. Chipaumire was when she walked into the studio: "I thought to myself, 'God I hope she can dance.'"  Ms. Chipaumire shared that Ms. Zollar became "a comrade, a teacher, a guide—a sister."  Ms. Zollar explained that over the years, Ms. Chipaumire has given her as much as she has taught. Ms. Chipaumire became a leading collaborator when Urban Bush Women (an all female company) embarked on making a piece with the all-male Senegalese company Compagnie Jant-B (presented on the Breaking Ground Dance Series at the Center for the Arts in February 2008).  Ms. Zollar and Ms. Chipaumire described all of the challenges of Urban Bush Women's residency in Senegal, all of the differences—brought up by gender, culture, and education—that needed to be "unpacked."
Their collaborative work, visible, grew out of some of these challenges, and the question "how do you really talk across cultural boundaries?" The piece was originally entitled visible/invisible, but Ms. Chipaumire explained they wanted drop the "victim" quality of the word "invisible." "The fact is, we are visible," said Ms. Chipaumire. "How can we learn to talk about things that are close to the jugular? Because in the space of difference—that's where life is happening."
The dancers chosen by the choreographers to perform in visible are almost all immigrants to the United States. Each is virtuosic in their own right, and each was encouraged to perform dances in their "mother tongue."  For example, Catherine Denecy from Guadaloupe performs movement based on traditional forms from her country; Marguerite Hemmings from Jamaica performs work that is derived from dance halls; and Judith Jacobs from Holland is a true post-modernist. "The piece is a lot like the idea of jazz—each instrument has its own voice, but they come together as one sound," said Ms. Zollar.  Two percussionists join the dancers onstage to help bring the piece to life.
Earlier in the day on Saturday (at 11am in the Bessie Schönberg Dance Studio), Ms. Zollar will give a free masterclass. She will also give a talk before the performance (at 7:30pm in CFA Hall). Then after the performance, the audience will have the chance to discuss the notion of migration/immigration, led by Associate Professor of Dance Nicole Stanton.  Do join us on Saturday!
"visible"
New England Premiere

Choreography by Jawole Willa Jo Zollar and Nora Chipaumire
Saturday, October 6, 2012 at 8pm

CFA Theater
$23; $19 senior citizens, Wesleyan faculty/staff, non-Wesleyan students; $6 Wesleyan students
Pre-performance talk at 7:30pm in CFA Hall by Jawole Willa Jo Zollar.
Ms. Zollar will also teach a masterclass on Saturday, October 6 at 11am in the Bessie Schönberg Dance Studio, located at 247 Pine Street. The masterclass is free with the purchase of a ticket to Saturday night's performance. Registration for the masterclass is required. To purchase tickets and register for the masterclass, please contact the Wesleyan University Box office at boxoffice@wesleyan.edu or 860-685-3355.