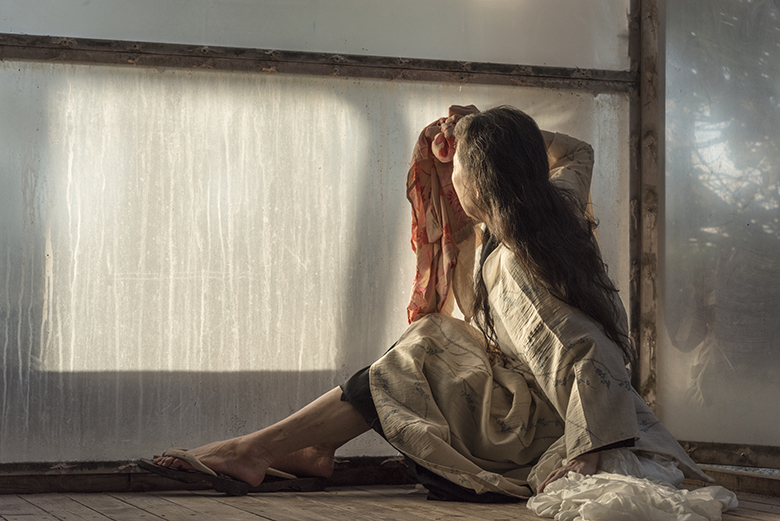 Dear Friends of the Center for the Arts,
This week we begin to highlight the recent work of Eiko Otake, a long-time friend of Wesleyan and mine, and our first CFA Virtual Artist-in-Residence.
At the onset of the pandemic, we took time to look for past reference points to guide us forward in this moment; and to consider how some of the artists we have worked with might help us process our present situation. Among these, none has engaged with us for as long, or in as many profound and different ways, as Eiko Otake, who regards "Body as a landscape and Landscape as a body," and who has made a life's work of contemplating grief.
Eiko first performed at Wesleyan as Eiko & Koma in 2002 with Offering, a three-hour performative ritual of sustained mourning after 9/11. She dove deep into the idea of body/landscape with A Body in Places, which included performances in Wesleyan's Olin Library and Van Vleck Observatory. In 2017–18, Eiko was a Think Tank Fellow in the College of the Environment, which was focused on themes of disaster and human-environment relationships. Her ongoing collaboration with Wesleyan professor William Johnston brought them repeatedly to post-nuclear disaster Fukushima. In addition, Eiko regularly teaches an interdisciplinary course focused on movement and massive violence, and this has introduced her over the years to many young collaborators, artists, audience members, curators, and friends. As a result, The Duet Project, begun in 2017, features many alumni, including Alexis Moh '15, Nora Thompson '15, DonChristian Jones '12, and Iris McCloughan '10.
Like most performing artists, Eiko's upcoming performances and works-in-development have been cancelled or postponed. So upon returning to Japan mid-March, and entering into self-quarantine, Eiko embraced the opportunity to collaborate with Wesleyan on this new experiment. 
Below are links to a Virtual Studio, developed by Eiko and Allison Hsu '19, that carries Eiko's works, reflections, collaborators' voices, and dialogues with others through her virtual residency.
This week's highlights are:
What is Virtual Studio?
Room
On Artists and War
Conversation with Bill T. Jones
In this time of uncertainty, in a field reliant on connection for survival, we are called to work together and to be a community of care for one another. We invite you to spend time with us in Eiko's Virtual Studio, where your feedback and reflections are welcomed and appreciated.
Jennifer Calienes
Interim Director
Center for the Arts
History and Personal Note
Eiko and I shared a mentor and friend in Sam Miller '74, who many of us are missing greatly right now. Eiko and Sam had a way of guiding one another simultaneously—a partnership and deep collaboration that influenced both of their careers and wove its way in and out of Wesleyan in profound and long-lasting ways. 
It is through their collaboration that I was introduced, as a 1994 intern at Jacob's Pillow, to the work of Eiko & Koma. Years later, again under Sam's guidance, I would get to know Eiko as an advisor to the National Dance Project, a program I managed at the New England Foundation for the Arts. Eiko was the highlight of our meetings. There were sometimes tears and, at least one time, pounding fists on the table, as advisors were asked to keep silent during the panel deliberations. Eiko helped us realize how problematic this was, and we adapted.
True collaboration, I've learned through trial and error, is built on trust and communication. It takes time, makes room for reflection, and leans into complexity and nuance. And as Eiko described in her American Dance Festival program notes for The Duet Project, "difference is an engine of inquiry." 
Between 2006 and 2009, as Director of the Maggie Allesee National Center for Choreography, I had the privilege of working closely with Eiko & Koma through our Living Legacy program on the development of Cambodia Stories, Hunger, and the Retrospective Project. It may have looked from afar that we were supporting Eiko & Koma, but we were really learning from them. 
Since that first performance some 25 years ago, I have often longed for opportunities to experience Eiko's work as an antidote to an overly busy and fast-paced life. I crave time to consider shape and texture, skin and body, breath and pace, and Eiko's profound ability to make one feel absolutely present with her. 
As we collectively pause, reflect, and re-imagine how to move forward, my hope is that we slow down to really absorb our time, body, and landscape—and maybe one day—we will catch up to her.
Visit Eiko's Virtual Studio.
Back to top.