CFA Arts Administration Intern Chloe Jones '15 talks to Nick Benacerraf '08, Edward Bauer '08, Jess Chayes '07, and Stephen Aubrey '06 of The Assembly about the work "HOME/SICK," which will receive its New England premiere on Thursday, January 30 and Friday, January 31, 2014 at 8pm in the CFA Theater.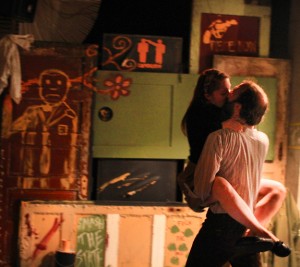 In the summer of 2006, Stephen Aubrey '06, Jess Chayes '07, Nick Benacerraf '08, and Edward Bauer '08 traveled to the Edinburgh Fringe Festival to perform We Can't Reach You, Hartford, an original work of theater which became Ms. Chayes' senior thesis at Wesleyan.  Over seven years later, the four Wesleyan alumni are still making work together, and this week they return to campus for the New England premiere of HOME/SICK.
HOME/SICK tells the story of a handful of student activist leaders in the 1960s who, searching for justice and an end to the Vietnam War, became convinced that violence could pave the way toward peace. With ambitions to overthrow the government, they formed the Weather Underground after taking control of the Students for a Democratic Society movement in 1969.
"It is a deeply political work without trying to be didactic," Mr. Benacerraf said when I spoke with the four of them earlier this week in the CFA Theater.
HOME/SICK was co-authored and co-created by the members of The Assembly, a Brooklyn-based theater ensemble co-founded by Mr. Aubrey, Mr. Bauer, and Mr. Benacerraf.  "It took a year to develop the original script," explained Mr. Bauer, "and it was written to varying degrees by all of us."
Political and personal histories converge in HOME/SICK.  Having identified a number of sub-topics within the larger historical period, the ensemble set about researching, discussing, questioning, writing, and rewriting.  According to Ms. Chayes, "HOME/SICK fuses historical sources with deeply personal material," a style that has become the hallmark of The Assembly's artistic process.
They first performed HOME/SICK in 2011 at the Collapsable Hole theater in Williamsburg, only one month before the Occupy Wall Street movement began in Manhattan's Financial District. The production couldn't have been more timely.  With Occupy Wall Street at the forefront of local and national news, and quickly garnering international attention, the story told in HOME/SICK suddenly gained a heightened sense of immediacy.
Mr. Benacerraf recounted how the reactions of their audiences changed in accordance with the action unfolding just across the East River. "It was inspirational to a lot of people to know that you could be this committed to trying to change the world," he said, "or that it was even possible to think this way."
One year later, when The Assembly performed HOME/SICK again, they were met with different reactions. "When we did it again, after Occupy Wall Street had mostly fizzled out, we had people who were inspired the first time weeping in our arms, literally weeping, at intermission," Mr. Benacerraf recalled.
Rooted in history yet relevant to the present day, HOME/SICK asks the question: "How far would you go to make the change that you feel is necessary?"
Mr. Aubrey, Mr. Bauer, Mr. Benacerraf, and Ms. Chayes are quick to give credit to Wesleyan for instilling in them a "liberal arts ethos," as Ms. Chayes described it, which has guided and defined their work. "We are interested in finding many different ways of interrogating the same question," she said.
Mr. Benacerraf mentioned the Wesleyan Theater Department for the rigorous theoretical engagement it demands of its students, a practice these alumni have carried with them into the world.  He also spoke of Second Stage, the student-run organization that oversees student theater on campus, for having influenced they way they work — collaboration forming the core of their creative process.
"What's it like to be back at Wesleyan?" I asked.
"Wonderful and strange," Mr. Aubrey responded. "Now my mentors, the professors who taught us to make art, are sort of like colleagues, and it's wonderful to think that they want us back, not as students but as artists."
"It still feels like home," Ms. Chayes added, "It feels like where this company was forged."
The Assembly: HOME/SICK
New England Premiere
Thursday, January 30 & Friday, January 31, 2014 at 8pm
CFA Theater
Post-performance Q&A with activist Mark Rudd, a founding member of The Weather Underground, on Thursday, January 30, 2014
$23 general public; $19 senior citizens, Wesleyan faculty/staff/alumni, non-Wesleyan students; $6 Wesleyan students