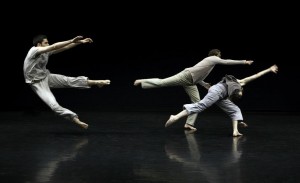 Wesleyan University's Center for the Arts announces the highlights of their 40th anniversary season in 2013-2014, including two world premieres, four New England premieres, and six Connecticut premieres:
• September 6 – December 8, 2013: The Alumni Show II exhibition in Ezra and Cecile Zilkha Gallery, featuring painting, sculpture, drawing, installation art, video art, performance, and films
• September 12 & 13, 2013: Stripped/Dressed featuring Rise and the Connecticut premiere of Carrugi by Doug Varone and Dancers
• September 13, 2013; November 16, 2013; and February 15, 2014: Dine/Dance/Discover, a new event designed to bring audiences closer to the work on stage before and after all three 2013–2014 Breaking Ground Dance Series performances
• September 27 & 28, 2013: the Connecticut premiere of Who's Hungry by Dan Froot and Dan Hurlin
• September 29, 2013: the first of twelve recitals featuring the complete piano works of Wesleyan John Spencer Camp Professor of Music Neely Bruce, including two world premieres
• October 9–13, 2013: the 37th annual Navaratri Festival, including the Connecticut debut of dancer Aparna Ramaswamy
• October 15, 2013: the New England debut of Netherlands-based pianist Reinier van Houdt
• October 25, 2013: Malian guitarist Vieux Farka Touré, the "Hendrix of the Sahara"
• November 9, 2013: the Connecticut debut of London-based a cappella trio Juice Vocal Ensemble
• November 11, 2013: Blood, Muscle, Bone, a performative "teach-in" by choreographers Liz Lerman and Jawole Willa Jo Zollar
• November 13–16, 2013: Anton Chekhov's The Seagull directed by Wesleyan Associate Professor of Theater Yuri Kordonsky
• November 15 & 16, 2013: the Connecticut premiere of the dance work Pavement by Kyle Abraham/Abraham.In.Motion
• January 30 & 31, 2014: the New England premiere of the theater work HOME/SICK by The Assembly
• February 1, 2014: the Connecticut debut of the Ignacio Berroa Trio
• February 14, 2014: the first concert in New England by Ukrainian pianist Vadym Kholodenko after winning the Gold Medal in the Van Cliburn International Piano Competition
• February 14 & 15, 2014: the New England premiere of Times Bones by San Francisco's Margaret Jenkins Dance Company
• March 8 & 9, 2014: the 15th annual DanceMasters Weekend, featuring a Showcase Performance by three dance companies, and twelve Master Classes over two days
• March 27—29, 2014: the Society for Electro-Acoustic Music in the United States conference, to be held in New England for the first time since 1998
Tickets for the 2013-2014 season at the Center for the Arts go on sale on Monday, July 1, 2013. Tickets will be available online at http://www.wesleyan.edu/boxoffice; and starting at Noon by phone at (860) 685-3355, or in person at the Wesleyan University Box Office, located in the Usdan University Center, 45 Wyllys Avenue, Middletown.
Programs, artists, and dates are subject to change without notice.