Director of the Center for the Arts Pamela Tatge discusses the intersection of art and science being explored at Wesleyan and as part of the Reintegrate New Haven project.
Many of you will remember the groundbreaking work by the Liz Lerman Dance Exchange commissioned by the Center for the Arts that premiered in February 2006, Ferocious Beauty: Genome. It was a movingly beautiful work that looked at the repercussions of genetic research raising prospects that previous generations may scarcely have imagined: of prolonging life and maintaining youth indefinitely, of replicating an individual, of choosing the bodies and brains of our children, and of creating new species to feed and serve us. The work toured for five years following its Wesleyan debut bringing audiences to their feet, and bringing many people in contact with scientific subject matter they might not otherwise have considered.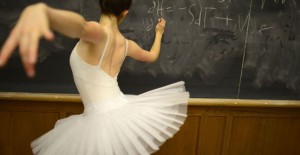 Fast forward to today: one of the Wesleyan scientists who began her partnership with Liz Lerman and the Dance Exchange over eight years ago has teamed up with one of the dancers/choreographers in the company to create a new work funded by Reintegrate New Haven, a project of the Arts Council of Greater New Haven. Dr. Laura Grabel is the Lauren B. Dachs Professor of Science in Society and Professor of Biology at Wesleyan; and Elizabeth Johnson is now a dancer/choreographer/educator at Arizona State University. (If you're not sure who Elizabeth is, she danced the role of Miss Tata in Genome, and in September 2005, for Middletown Dances, she choreographed the waiter dance in downtown Middletown, and the famous dog dance for owners and their dogs that was staged on Andrus Field).
The two submitted a proposal which was funded by Reintegrate to create the Plurpotency Dance, an interactive, multi-media performance piece, exploring stem cells and the ethical implications of stem cell research. The piece addresses the fact that many non-scientists have opinions about stem cell research, and that their opinions may not be based upon a full understanding of the relevant science and ethics. Particular focus will be placed on how individuals will bring their full thoughtful and emotional selves to both scientific exploration and artistic creation. In science classrooms at Wesleyan, Grabel, Johnson and the Wesleyan Science Choreography team have been experimenting with allowing students to bring emotion to their biology subject matter. According to Grabel:
"This may be a jarring concept for the traditional scientist or science students, but there is a long tradition of scientists expressing affection for their work and recognizing its inherent beauty. Making an emotional connection to the science can help to increase the level of commitment and provide a new perspective that uses regions of the brain not typically activated in designing, executing, and interpreting experiments. This approach may lead to unexpected insights."
All of the seven Reintegrate teams will give a free, 90-minute TED-type talk at New Haven's International Festival of Arts & Ideas on Wednesday, June 19, 2013 at 5:30pm at the Yale Center for British Art, located at 1080 Chapel Street. [Click here for more information about the Reintegrate: Enhancing Collaborations in the Arts and Sciences talk.] I encourage you to go and hear Grabel and Johnson speak about their work, along with others who are exploring the potential of art/science collaboration.