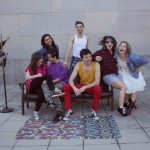 Center for the Arts Intern Lucy Strother '11 interviews dance thesis choreographer Sarah Ashkin '11 in anticipation of this weekend's Spring Senior Thesis Dance Concert performances.
This Thursday through Saturday, senior dance majors will showcase their choreography at the Spring Senior Thesis Dance Concert performances. I asked senior dance major Sarah Ashkin for some more information about the concerts and her featured work, Dismantle.
LS: Have the dance majors been giving and receiving feedback from each other all semester, or will this be the first time you see each other's work?
SA: There is one thesis showing before the performance, where all the senior majors and faculty offer feedback for the works in progress.  By the time we get to the show, the pieces have usually changed drastically, sometimes based on the feedback and other times because the process of making art takes us on many detours. It's tough to have spring break interrupting the process, so a lot of extra finesse goes into these last weeks.
LS: What themes have influenced and inspired your dance, Dismantle?
SA: Dismantle has been a dance research into the body of the capitalist worker, an investigation of how all of our bodies are greatly affected by the work environment of "produce, produce, produce."   The body is literally maimed and forgotten in this process of "mind over matter" to meet the deadline.  My dancers and I have explored how to create the "factory body" and how to dismantle it.  However, this is just one narrative that can be read from the piece, and I am open and interested to hear any others from witnesses.
LS: How does Dismantle relate to your piece from fall semester and to the research component of your thesis?
SA: Last semester my piece Soft Catapult was interested in the different ways tension and release play out in public and private spaces.  It was a much more open and abstract collage of images than Dismantle, which I consider to be my most linear work.
Both pieces were spawned from my thesis research in what I am calling Somatic Cultural Praxis; in other words, those places and times in our lives where the connection between mind, body, and spirit is cultivated and expressed.  I see my dances as embodied research into how somatic praxis can be uniquely crafted in each group of dancers that I work with, and how we can present our inner findings in a public art setting.
LS: Why are you looking forward to the performances this weekend?
SA: I am most excited to have my little sister come see the show.  She hasn't seen any of my work since I have been in college, and to finally show her what it is that I do, and hopefully impart to her why I believe dance is so important, will be really special.  But it is going to be a very bittersweet weekend.   The support that Wesleyan shows for student dance is really incredible. I am going to have to look long and hard to find anything as nurturing and challenging.
Spring Senior Thesis Dance Concert
Thursday, March 31 – Saturday, April 2, 8pm
Patricelli '92 Theater
$4 Wesleyan students, $5 all others