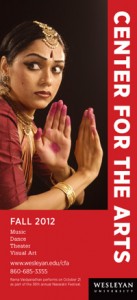 Over the course of the next year, a campus-wide steering committee has put together a far-reaching series of global performances, talks and participatory projects, all with the intention of bringing us into an examination of the role of Music & Public Life. We will celebrate and study the sounds, words and spirit of music in public at the local, national and transnational levels, all designed to cross disciplines and to engage the campus and community-at-large. From performances by Middletown's own Rani Arbo & daisy mayhem to the legendary Hugh Masekela; showcasing student research in the role of music in the current political campaigns; to the creation of MiddletownRemix–there are points of entry for everyone.
In September, we feature dance and theater companies who are exploring the role of the audience as actively engaged in the live creative process of the theatrical event. In ZviDance's Zoom, patrons use their smartphones to integrate their own photos and text into the work; in Anonymous Ensemble's Liebe Love Amour!, the audience is engaged in constructing the "performance script."
October and November bring the return of Jawole Willa Jo Zollar of Urban Bush Women in a stunning work she co-created with Nora Chipaumire (visible) that features an international cast of all-star dancers; as well as the CFA's commission of a work by the fiercely interdisciplinary writer/director Rinde Eckert (this year's winner of an inaugural Duke Performing Artist Award). The Last Days of the Old Wild Boy has been developed with students and faculty in Music, Animal Studies and Neuroscience and is supported by The Andrew W. Mellon Foundation-funded Creative Campus Initiative.
It's a robust fall, rich with work that brings us into new conversations with art and its possibilities. We hope you'll join us!
Best regards,
Pamela Tatge
Director, Center for the Arts