CFA Arts Administration Intern Chloe Jones '15 talks to Lily Whitsitt '06 about directing the Theater Department production of Slawomir Mrozek's "Vatzlav" on Thursday, April 10 and Friday, April 11, 2014 at 8pm; and Saturday, April 12, 2014 at 2pm and 8pm, in the CFA Theater.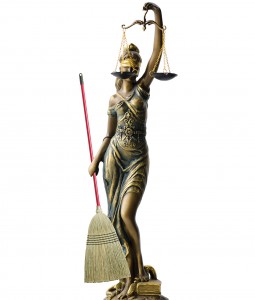 Written by Slawomir Mrozek and directed by Lily Whitsitt '06, Vatzlav tells the story of a shipwrecked slave's encounter with an unfamiliar island and its wildly eccentric inhabitants. Among others, Vatzlav meets a blind Oedipus, a bloodsucking couple, and a revolutionary disguised as a bear.
The set takes its inspiration from circus design and transforms the stage into a jungle gym of raised wooden platforms.  Audience members sit on stage with the actors, an invitation to join in the play's 77 quick and episodic scenes.
Vatzlav draws from 18th-century French philosophical tales such as Voltaire's Candide and the Marquis de Sade's Justine to tell a story that is both profoundly political and positively hilarious.  It's a farcical, fall-out-of-your-chair-laughing kind of funny.
The work itself has a political history. Mr. Mrozek wrote Vatzlav in 1968, shortly after he fled Poland and sought political asylum in France. Due to strict censorship laws, the play did not appear in Poland until nearly a decade later.
Vatzlav reflects the life of its exiled playwright, a man writing far from home and in the midst of great political turmoil.  "It's complete satire," says Ms. Whitsitt.  "He takes an axe to every political ideology."
With a cast of seven Wesleyan students, each character in the play embodies a different political ideology. Together they run the whole gamut of political philosophy and bring myriad perspectives into a witty and engaging dialogue.
The play delves into global questions related to power and authority, belief and hypocrisy, progress and modernity.  It also considers deeply personal dilemmas.
"It's about those moments of choice that we all face," explains Ms. Whitsitt. "Those moments when you have to confront your own ideals and beliefs."
It's a story about growing up — Vatzlav arrives on the remote island shipwrecked and in search of himself, looking for a new life and identity.  The zany inhabitants of the island and the trials he faces there incite him to question and come to terms with his own beliefs.
Ms. Whitsitt recalls grappling with many of her own beliefs as a student at Wesleyan, giving her reason to believe that the play would resonate with the students involved in the production and those in the audience.
"I wanted the students to be engaging with these types of questions," explains Ms. Whitsitt.  "For me, as a director, it's such a personal process for each performer."
Operating on both a global and a personal level, Vatzlav is a politically charged play about the choices we make as individuals.  "At its base it's about investigating humanity," reflects Ms. Whitsitt.
Vatzlav by Slawomir Mrozek
Directed by Lily Whitsitt '06
Presented by the Theater Department
Thursday, April 10 & Friday, April 11, 2014 at 8pm
Saturday, April 12, 2014 at 2pm & 8pm
CFA Theater
$8 general public; $5 senior citizens, Wesleyan faculty/staff/alumni, non-Wesleyan students; $4 Wesleyan students
Please note that this play contains adult themes and language that may not be appropriate for children.