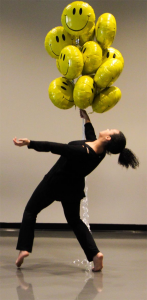 CFA Arts Administration Intern Chloe Jones '15 talks to Sierra Livious '14 and Emily Weitzman '14 about the Spring Senior Thesis Dance Concert (Thursday, April 3 through Saturday, April 5, 2014 at 8pm). All performances are sold out.  
Tickets are sold out for this week's Spring Senior Thesis Dance Concert. Featuring original works by six graduating seniors, the performances mark the culmination of their time in the Wesleyan Dance Department.
For those completing a thesis, this concert has been a year in the making. The dance thesis requires approximately twenty minutes of choreography, divided between a fall and spring concert, as well as a research paper between 60 and 100 pages. Others are doing senior projects, which entail a semester-long research engagement and an abbreviated number of choreographed minutes and written pages.
The performances will be held in the Patricelli '92 Theater [located at 213 High Street], followed by a site-specific work at Alpha Delta Phi [located at 185 High Street]. The concerts will cover a lot of ground — the dances are a reflection of the unique and varied interests of the choreographers.
The concert opens with a piece by Sally Williams '14. Also majoring in Molecular Biology and Biochemistry, her thesis examines the intersection between the dancing body and the diseased body with a focus on Alzheimer's and Dementia.
In the dimly lit theater, while dancers wait in the wings, a glowing MRI scan of a deteriorating human brain is projected onto the floor of the stage. What follows is an arresting display of dancing bodies, caught in the act of remembering and forgetting. Their movement is gestural and disoriented, ethereal and detached.
Another choreographer, Sierra Livious '14, designed her own University major, which brings together Neuroscience, Biology, and Dance to study movement analysis or kinesiology. Influenced by artists such as Irene Dowd and Andrea Olsen, her research focuses on the efficiency of goal-oriented movement through the lens of dance.
"Thinking of the body as a machine," Ms. Livious elaborates, "I wanted my dance to explore the relationships between elements of the body."
Ms. Livious hopes to further develop her research after graduation, focusing on real world applications of the ideas she's exploring in her senior project. Interested in injury prevention, she intends to pursue a career in physical therapy.
Also majoring in English, Emily Weitzman '14 is writing a non-fiction thesis about her experience at a medical clinic in Mombasa. She became fascinated with the waiting room in the clinic, as a site of both movement—people passing through and strolling by—and stillness, waiting.
Her interest in the waiting room prompted her to choreograph a piece about place, or rather "non-place." A non-place is somewhere that exists only for one to leave it — an airport, for example, or a bus stop.
"It's about the non-place as it relates to home," explains Ms. Weitzman. "It's about how people can be home, places can be home, objects can be home."
At once playful and profound, the piece features three dancers and two wooden benches. The trio moves and manipulates the benches in the most inventive ways—climbing on them, crawling under them, flying off them—so that the benches seem to also dance. It's as if the benches become the dancers and the dancers become the benches.
Another piece [by Elle Bayles '14] draws inspiration from Merce Cunningham and Pina Bausch to explore how modern dance and psychology both offer opportunities for self-reflection and ways of understanding the human experience. Another [by Naya Samuel '14] poses current yet timeless questions about socially constructed identity, personal history, and perspective.
For the final piece [by Emily Jones '14], the audience is ushered from the Patricelli '92 Theater to the nearby Alpha Delta Phi house for a site-specific work influenced by Punchdrunk's production of Sleep No More. The dance takes place throughout the house and viewers are free to roam, so that it's the steps each audience member takes that determine what they see and where.
Together these six stand-alone pieces make for a diverse concert rich with movement and meaning.