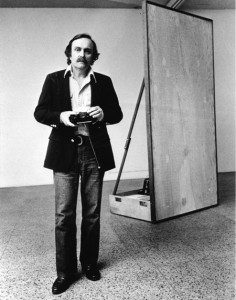 Despite the power outages earlier in the week, and fallen trees and branches in the Center for the Arts, we are still preparing to welcome artists and scholars from around the world to Wesleyan this weekend to explore the work of Alvin Lucier. Alvin has been the John Spencer Camp Professor of Music at Wesleyan for over four decades. At eighty, he is as prolific as ever, and all of us who have been working on the events in his honor have so appreciated getting to know the depth of the impact of this magnificent man. It is fitting that the festival is scheduled in conjunction with Wesleyan's Homecoming/Family Weekend, as several thousand of our undergraduate and graduate students have been influenced by Alvin over the years.
Perhaps no one has come to know more about Alvin than Andrea Miller-Keller who has expertly and lovingly curated an exhibition that opens this Saturday at the Center for the Arts Ezra and Cecile Zilkha Gallery. You may know Andrea from the nearly thirty years she spent at the Wadsworth Atheneum where she was the founding curator of MATRIX gallery.  Alvin Lucier (and His Artist Friends) is the first exhibition to explore the breadth of his work in a gallery context. It's a broad and colorful overview of his nearly six-decade career, featuring seventeen of his major works through audio presentations, performance videos, scores and archival memorabilia. A special section includes both a presentation of Alvin's landmark 1969 piece, I Am Sitting in a Room and an exploration of its widespread influence on other artists over the past four decades. Andrea also examines the sources of inspiration and exchange of ideas among Alvin and his some of his artist-friends, including Sol LeWitt, John Ashbery, John Cage and others.  One of my favorite films in the exhibit is George Manupelli's Dr. Chicago trilogy that premiered from 1968 to 1971, featuring Alvin in the title role.
An installation that is sure to fascinate and delight is the tribute to Alvin's 1968 masterpiece, Chambers, organized by Ron Kuivila, chair of Wesleyan's Music Department and a former student of Alvin's. Over forty Wesleyan alums recorded environmental sounds following Alvin's instructions and submitted mp3 files along with a small resonant object into which the sounds will be played.  The objects, some fanciful, some ordinary, are displayed on long tables and include a toaster, a shotgun shell, a flute, a vase, and a sauce pot, among many others.  Patrons to the gallery will have the opportunity to lean in and listen to each object.
Kuivila has also staged a "flash-mob" for current Wesleyan students who have created their own Chambers works that will begin on Foss Hill at 1:45pm and process to the gallery in time for the opening.
So please join us for the festivities that begin on Friday at 12:15pm in the CFA Hall and continue through the final Tribute Concert at 2pm on Sunday afternooon. Visit wesleyan.edu/lucier to see the full schedule.
Pamela Tatge
Director, Center for the Arts
Buy Three, Get One Free!
Call or visit the Wesleyan University Box Office at 860-685-3355 to purchase subscription packages for the Alvin Lucier Celebration, which include all four concerts: $36 general public; $30 senior citizens, Wesleyan faculty & staff, non-Wesleyan students; $18 Wesleyan students.