CFA Arts Administration Intern Chloe Jones '15 discusses the Center for the Arts' 40th Anniversary Celebration Concert 
featuring music alumni of the past decade Amy Crawford + STORM and mamarazzi, which will take place during Homecoming/Family Weekend on Saturday, November 2, 2013 at 8pm in Crowell Concert Hall.

This year the Center for the Arts celebrates its 40th anniversary and a number of Wesleyan alumni artists are returning to campus to join in the festivities. These alumni are photographers, musicians, creative bloggers, installation artists, painters, performers, and more. Together they represent a microcosm of Wesleyan's thriving and diverse art world. They majored in music, government, art history, neuroscience, and just about every other subject.  They work across disciplines and with mixed medias, constantly pushing the boundaries of creative expression.
The Alumni Show II is currently on view in the Ezra and Cecile Zilkha Gallery; and on Saturday, November 2, 2013 at 8pm, Amy Crawford and Eric Herman, two graduates from the class of 2005, will perform in Crowell Concert Hall along with other alums during the CFA 40th Anniversary Celebration Concert. Featuring music alumni of the past decade, the concert promises to be as diverse as the Wesleyan arts community itself.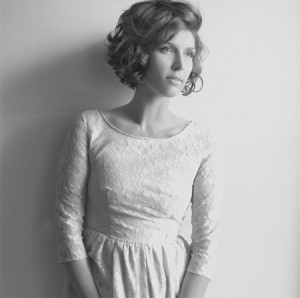 Having performed her senior recital in Crowell Concert Hall, Amy Crawford returns to that same stage with jazz ensemble STORM featuring guitarist Jesse Lewis, drummer Jared Schonig, bassist Ike Sturm, and vibraphonist Chris Dingman '02. Ms. Crawford and Mr. Dingman did not know each other at Wesleyan, but they connected soon after when she reached out to him for some alumni advice on surviving as a musician in the Big Apple. Although they've become good friends and worked together on a number of projects since then, this will be the first time Ms. Crawford performs with STORM.
Ms. Crawford describes STORM as a quartet with incredible chemistry, and says she's been itching for an excuse to work with them.  Last year she wrote, recorded, and produced a number of original songs independently.  At Wesleyan, she and the members of STORM will play from this catalogue of original material, with a favorite cover or two thrown in for good measure. She is excited to see how the studio-produced songs come to life in a live performance with other musicians.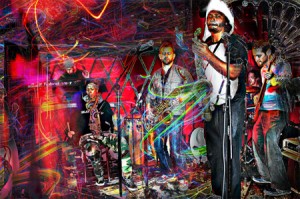 Eric Herman takes the stage with Brooklyn-based band mamarazzi and his bass guitar. The band, which Mr. Herman describes as a "Wesleyan expat project" that traces its beginnings to 2008, also includes guitarist Andrew Aprile '06, keyboardist Rob Cohen '06, percussionist Sam Bathrick '04, tenor saxophonist Tacuma Bradley '04, vocalist Tavi Fields '02, and drummer Andrea Belfiore. Not easily categorized into one genre, mamarazzi fuses together funk, jazz, hip hop, salsa, and Afro-funk.
mamarazzi draws from a range of influences, including Thom Yorke, Maceo Parker, Frank Zappa, Fela Kuti, and Wesleyan's own Adjunct Professor of Music Abraham Adzenyah, who teaches "West African Music & Culture." Mr. Herman thinks everyone in the band took at least one class with Professor Adzenyah, and they continue to incorporate what they learned from him into their music. Professor Adzenyah's class inspired many of mamarazzi's members to travel to Ghana, not as a band but on their own, and Mr. Herman says these trips have informed their music.
Both Mr. Herman and Ms. Crawford attest to the influence that Wesleyan professors have had on their music, careers, and lives. Ms. Crawford found a mentor in jazz musician and Adjunct Professor of Music Jay Hoggard. "I never considered myself a singer," she says. "He was the one who pushed me in that direction. He helped me build myself into a better musician."  Both alumni give a shout out to John Spencer Camp Professor of Music Anthony Braxton for encouraging them to pursue music.  "He was a huge inspiration for me," Mr. Herman says.
Shaped by their experiences at Wesleyan, Ms. Crawford and Mr. Herman will help shape this year's music scene as they return to the CFA for the 40th Anniversary Celebration Concert. The concert presents an opportunity for current students to see what alumni artists are working on now and for our community to see how far our graduates have come.
CFA 40th Anniversary Celebration Concert:
Amy Crawford + STORM and mamarazzi
Featuring Music Alumni of the Past Decade
Saturday, November 2, 2013 at 8pm
Crowell Concert Hall
$20 general public; $18 senior citizens, Wesleyan faculty/staff, non-Wesleyan students; $6 Wesleyan students