CFA Arts Administration Intern Chloe Jones '15 talks to Professor of Art Jeffrey Schiff about Liz Magic Laser '03, whose films will be shown during a free screening on Thursday, October 17, 2013 at 7pm in the Powell Family Cinema at the Center for Film Studies.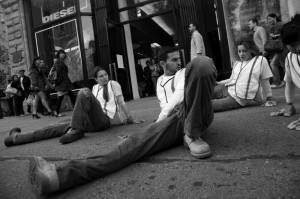 We invite you to get to know the world of Liz Magic Laser '03 (and yes, that is her given name).  She's a performance-based artist living in Brooklyn, New York with an eye for the unexpected. Merging live theater, film, and video, her work often appears when you least expect it — in a bank vestibule, movie theater, or newsroom, or on the sidewalk one Saturday afternoon. Ms. Laser uses these public spaces as platforms for deconstructing the mechanisms of political melodrama.  By appropriating performance techniques and psychological strategies employed by the media and politicians, she calls attention to the ways in which public opinion can be influenced and shaped.
This Thursday at 7pm, there will be a screening of three short films by Ms. Laser in the Powell Family Cinema at the Center for Film Studies.  A graduate of Wesleyan's class of 2003, her work is presented in conjunction with The Alumni Show II which is on display in the Ezra and Cecile Zilkha Gallery through Sunday, December 8, 2013.
The first film in the series, Distressed, features five professional modern dancers working hard to distress their new blue jeans on a bustling sidewalk.  In the second film, Mine, a medical robot performs a series of surgical maneuvers on Ms. Laser's handbag, removing and piling her ID cards, spare coins, and lipsticks into something resembling an abstract expressionist assemblage.  The third film, Flight, presents a series of fast-paced chase scenes that blur the line between the chaser and the chased.  This eclectic trio of films reflects Ms. Laser's interdisciplinary inclinations, which she says stem from the interdisciplinary approach emphasized at Wesleyan.
One of her former professors at Wesleyan, Professor of Art Jeffrey Schiff, remembers her as a curious, avid, and experimental student. He recalls a series of large color photographs that she made of caviar while in one of his classes, commenting on her creativity and versatility as a young artist. She had a knack for photography, but consistently expressed interest in other mediums, and later turned to performance art in her graduate studies at Columbia University in New York.
Recently, Ms. Laser has gained a lot of exciting visibility, and just this year she served as the commissioned artist for the 2013 Armory Show, one of the largest international contemporary art fairs. Also this year, she has had solo exhibitions at the Westfälischer Kunstverein in Münster, Germany, for which she received the Alfried Krupp von Bohlen und Halbach Foundation Grant, and at DiverseWorks in Houston, Texas.
Given the potency of her work it is no surprise that she's gaining international acclaim as an artist interested in contemporary concerns. "Liz has found a way of investigating relations between artist and audience, and the mediated political theater that we are all subjected to by mass media, that is unsettling, disturbing and amusing," said Professor Schiff.  "Her work has been very good at exposing the absurdities we take for granted."
Films by Liz Magic Laser '03
"Distressed" (2009), "Mine" (2009), and "Flight" (2011)
Thursday, October 17, 2013 at 7pm
Powell Family Cinema, Center for Film Studies, 301 Washington Terrace, Middletown
FREE!