CFA Arts Administration Intern Monica M. Tinyo '13 discusses the MiddletownRemix Festival, taking place on Saturday, May 11, 2013 from 2pm to 5pm. All festival events are free, and will take place rain or shine. The Festival Information Center will be located at 575 Main Street, Middletown, CT (in front of It's Only Natural Market). Click here to download the MiddletownRemix Festival Schedule and Map (opens as a pdf).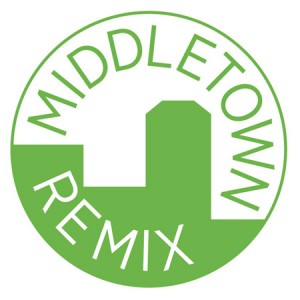 This Saturday, MiddletownRemix: Hear More, See More – A Festival of Art and Sound will celebrate the city's acoustic identity with four world premieres of works commissioned for the festival, three live DJ sets, two commissioned art/sound installations, a laptop orchestra, a flash mob dance, food trucks, graffiti art, improv sketches, and a gallery walk.
MiddletownRemix is part of Wesleyan's year-long initiative Music & Public Life, as well as part of the Center for the Arts' greater initiative to foster community engagement using the arts as a catalyst. Not since Middletown Dances in September 2005 on Main Street, and the Feet to the Fire Festival in May 2008 at Veterans Park, has there been such an opportunity for Wesleyan students and the greater Middletown community to collaborate and celebrate the space they share. Gabriela de Golia '13 explains this collaboration is exactly why "the Wesleyan Student Assembly's Middletown-Wesleyan Relations Committee is so excited for this festival. For a whole afternoon, students, residents, families and renowned artists will be able to experience the artistic culture of Wesleyan and Middletown, and celebrate the work of talented community members. This is a special chance for the University and town to come together and engage with one another on a more personal and interactive level than is usually possible."
The MiddletownRemix project stemmed from the interest of Wesleyan Assistant Professor of Music Paula Matthusen in UrbanRemix, a project created by Georgia Tech composer Jason Freeman and his collaborators. The project includes a smartphone application and website, and allows people to easily record, geographically tag and share sounds from everyday life. Over the past year, campus and community members have been uploading sounds that characterize Middletown. After monthly meetings with Middletown's arts stakeholders group, a committee of 25 dedicated community members and members of Wesleyan's Center for the Arts, WESU 88.1 FM, and Green Street Arts Center together shaped the MiddletownRemix festival, including partnering on a successful grant proposal to the Connecticut Office of the Arts.
This Saturday's festival will premiere a total of eight commissioned works from Middletown artists, Wesleyan students and faculty; including "MTRX" (2012) by Jason Freeman, which will be performed by Wesleyan University's Toneburst Laptop & Electronic Arts Ensemble, directed by Paula Matthusen, at 2pm, 3pm and 4pm at the Green Street Arts Center (located at 51 Green Street).
Don't miss this exciting opportunity to listen and dance with your neighbors. There will be a flash mob dance at 2:30pm on Main Street between Liberty and Ferry Street. It's not too late to learn the flash mob dance, which is open to all levels of dancers. Learn the dance on YouTube here and perform it as part of the flash mob on May 11 (participants should plan to arrive at the Festival Information Center, located at 575 Main Street in front of It's Only Natural Market, at 2pm, and then perform the dance at 2:30pm).
For more information about six of the commissioned MiddletownRemix festival artists, check out these interviews from the Creative Campus blog:
Aletta Brady '15 talks to DJ Arun Ranganathan
Michelle Agresti '14 talks to Ronald Kuivila
Aletta Brady '15 talks to Joe McCarthy and Peter Albano
Michelle Agresti '14 talks to Jason Freeman
Michelle Agresti '14 talks to Marc Pettersen
Aletta Brady '15 talks to Kelsey Siegel '13