CFA Arts Administration Intern Monica M. Tinyo '13 surveys this week's offerings at the Center for the Arts.
What are you doing this weekend? Are you rocking out to the music of the Grateful Dead? Watching an outdoor puppet show? Maybe you are listening to an orchestra of laptops, or expanding your idea of art. If you aren't, you should be. This weekend holds a ton of exciting performances, exhibitions, and lectures that are as diverse in subject as they are in medium.
On Friday at 1:30pm, get your dance fix with a free studio showing by the Philadelphia-based choreographer Moncell Durden, President and Founder of Dance Educators of Funk and Hip Hop.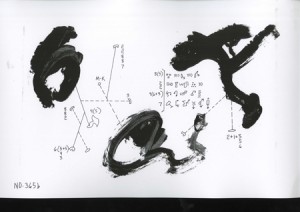 If music is more your thing, there are a number of senior and graduate recitals, like Henry Robertson's tribute to the Grateful Dead, "Transitive Nightfall of Diamonds" (Thursday at 9pm). You could also explore musical notation with international experts at the Time Stands Still festival-conference this weekend (starting Friday at 1:30pm). Along with symposium sessions and roundtables, there will be two concerts (Friday and Saturday at 8pm), including the U.S. premiere of London's Vocal Constructivists, alongside Wesleyan students in the Toneburst Laptop & Electronic Arts Ensemble.
A little overwhelmed? Take a break and have some quiet contemplation with artwork at the Ezra and Cecile Zilkha Gallery. There you can see the brilliant art studio thesis work (Noon to 5pm). The students featured are so talented, you won't believe that not one of them has yet lived a quarter of a century. You can also see artists taking action in a collection of protest posters at the Davison Art Center (Noon to 4pm).
Last but definitely not least is the outdoor puppet show (Thursday through Saturday at 9pm), with handmade puppets and complimentary tea. You really don't want to miss Frog's journey to prevent Tokyo's destruction by enlisting the help of a lowly collections officer, Katagiri!
Instead of your normal weekend routine, come to an event at the Center for the Arts. I promise it will be more fun, valuable and out of the ordinary than anything you were planning!