CFA Arts Administration Intern Monica M. Tinyo '13 talks to playwright Christina Anderson, who will be giving the free talk "The Theater as Apparatus: Why This Play? Why Now?" on Friday, April 12, 2013 at 4:15pm in CFA Hall.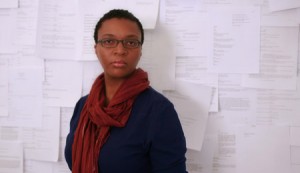 When asked in an interview "why theater?", Christina Anderson answered "I love the fact that adults are willing to pretend for 90 minutes." Christina fell in love with the play and power of theater as a child and hasn't stopped writing since. Lucky for me, she did put down her keyboard for a few minutes to chat with me about her work, process and upcoming talk.
Monica Tinyo: What will you be talking about this Friday?
Christina Anderson: The goal of the speech is to talk about my background and relationship with theater and [how to have it] be a part of my life, rather than it be my life. I want to look at different ways that social responsibility can play a part in the stories we tell and the importance of using theater as an apparatus because, in all honesty, we can't compete with television or film, but on the flip side, they can't compete with us, either. Its really about finding these ways that theater is unique and necessary, and using the apparatus of theater in celebrating live performance.
I love theater. There are things that frustrate me about the business, but there are things about it that I love. I just hope that my day [at Wesleyan] will offer some insight into the early stages of making a career out of [playwriting and a love of theater].
Can you talk a little about your recent projects? Maybe Hollow Roots (performed in January as part of The Public Theater's Under the Radar Festival in New York City) and this idea of the neutral narrative?
Hollow Roots is about a female protagonist who goes on a quest to find a person of color with a neutral narrative—neutral narrative being a narrative by someone who is not affected by their race or gender; she is in this fictitious New York-like city on a quest to find this person and it ends up being her.
I was just really interested in this [solo performance] structure, and as I was starting to do research, I noticed that a lot of solo shows featured people of color who embodied various characters—the theatricality being that all these different people live in this one body. On the other hand, solo performances by white men were usually solo narratives—sitting for an hour and telling a story. I was really fascinated by that. I wanted to challenge myself to create a lone ["neutral"] narrator, who we would visually identify as a black person.
Is this indicative of how you normally create a work? What is your process as a playwright?
With all my plays, it starts from a series of questions. The purpose of writing isn't about finding a single solution or answer. It's about exploration and discovering possibilities. For Hollow Roots, it was "what is it like to live as a person of color in a society that considers itself post-racial?"
I do a ton of research before I start any play; I usually come in to it with a theme and read a ton of books, essays, analytical writing, music, art, blogs, plays by playwrights I admire. I just get a big pot of information, stir it up, and start thinking about the theatrical world that I am trying to create. I always try to challenge myself when I write—a two character play, or a solo play, and then I develop a character or a few characters and figure out what the relationships between them are. I make an outline of all this and then I just write.
Christina is a rare talent who is equally a teacher and a story-teller, making us question all the certainties we take for granted. Her openness and curiosity are infectious. I will leave you today with a few wise words from Christina:
Be present. Don't bother posting a picture of the meal you cooked. Don't post the song you just danced to. Don't tag the friend you just hung out with. Just do it. Be present. Let the experience, the memory live in your muscles, your limbs—not on Facebook. Nourish is a verb. Give yourself the things you need to grow, to be healthy, to be your ideal self.
For more, visit this post and come hear her speak this Friday at 4:15pm in the Center for the Arts Hall. An Outside the Box Theater Series event presented by the Theater Department and the Center for the Arts, co-sponsored by the Center for African American Studies and the Wesleyan Writing Programs.