This weekend Wesleyan hosts performances by the Wesleyan Jazz Orchestra, directed by Adjunct Professor of Music Jay Hoggard; the Wesleyan Jazz Ensemble, directed by Jazz Ensemble Coach Noah Baerman, and a much-awaited, sold-out performance by the legendary South African trumpeter, composer, producer, and activist Hugh Masekela. The weekend also features a free performance by Connecticut's own Lee Mixashawn Rozie and his "Ghostly Trio" on Saturday night, as the final event of the 12th annual Wesleyan Jazz Orchestra Weekend. CFA Arts Administration Intern Monica M. Tinyo '13 talked to Mixashawn about his upcoming performance, and his personal philosophy of music and life.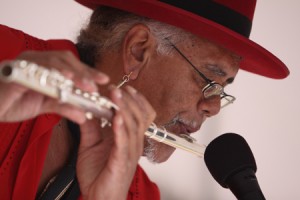 Mixashawn is "more powerful each time I hear him…" (Stanley Crouch). Internationally-acclaimed composer, performer, educator, and maritime artist Lee Mixashawn Rozie has captivated and enlightened audiences in the United States and Europe for more than three decades. His incarnation as The Wave Artist draws upon a heritage of multicultural innovation that spans four centuries, and both sides of the Atlantic Ocean. In applying to his arts an ancient understanding of waves in their multiple manifestations—sonic, aquatic, percussive, and harmonic—Mixashawn expresses a reverence for the unique and universal qualities that all waves possess, and celebrates the unity of existence. Mixashawn comes to Wesleyan at the invitation of Jay Hoggard, and I had the pleasure of talking with him.
Monica Tinyo: You praise music with "hemispheric principles." What does hemispheric principles mean exactly?
Lee Mixashawn Rozie: [American music is] music of the hemisphere. So often, when you say "music of the Americas," people assume Latin, but I always thought [of American music as] an embodiment of the whole continent. I like Latin [music], but I also like swing, rock, funk, and country, and I don't like to be limited by those categories. The fact that we don't think of American music as "hemispheric music," or music of the Americas, is one of the reasons why this hemisphere is in turmoil. We don't look at ourselves as Americans. We are the only continental people that don't look at ourselves as such; Europeans are Europeans, Africans are Africans, but in the Americas, American means originating from the United States, not the continent. All this does is weaken us as a people.
Do you think that hemispheric music can bring us together?
What binds us all together is the indigenous aspect of spontaneity. The Objiwae's traditional name for themselves translates to "spontaneous beings." Spontaneity is what all music has in common, especially all jazz music. Think about American music: all the greatest musicians come from the people. What binds all this music beyond spontaneity is another definition of spontaneity, swing. "You ain't got a thing when you ain't got that swing." It's a cliche, but it holds some truth. When you swing, it's a high state of creativity—you are not thinking, just acting. You don't think with your right side of your brain [and allow creativity to flow]; hemispheric music is [about] not being caught up in the right side of your brain.
What will the music this weekend be like?
I consider my music omnipop, or pop from the last 500 years. For this weekend's concert, we will be going from "Purple Haze" [Jimi Hendrix] to southern-style indigenous music to original music.
How long have you had a relationship with Wesleyan? I assume this isn't the first time you are playing here.
Even though I never attended here, it was very prominent in shaping me musically. I used to come down here [when at Trinity College] and hang out. I would play with a lot of the students and got to know some of the professors. [Wesleyan] always affected me.
12th annual Wesleyan Jazz Orchestra Weekend
Thursday, April 18 through Saturday, April 20, 2013
Wesleyan Jazz Orchestra
Thursday, April 18, 2013 at 8pm
Crowell Concert Hall
FREE!
The Wesleyan Jazz Orchestra and the Wesleyan Jazz Ensemble perform classic jazz compositions, including tunes by Wayne Shorter, Charles Mingus, Ted Dunbar, Kenny Barron, Duke Ellington, and Charles Lloyd.
Hugh Masekela
Friday, April 19, 2013 at 8pm
Crowell Concert Hall
Pre-concert talk at 7:15pm by Professor of Music Eric Charry
(SOLD OUT)
The concert will open with a performance by students of West African Drumming at Wesleyan, directed by Master Drummer and Adjunct Professor of Music Abraham Adzenyah.
A Conversation with Hugh Masekela
Music and Public Life: The Role of the Artist as Activist
Saturday, April 20, 2013 at 11am
Crowell Concert Hall
FREE!
A conversation with Hugh Masekela, moderated by Professor of Music Eric Charry.
Wesleyan Jazz Orchestra and Mixashawn's "Ghostly Trio"
Saturday, April 20, 2013 at 8pm
Crowell Concert Hall
FREE!
The Wesleyan Jazz Orchestra performs classic jazz compositions by Thelonious Monk, Tadd Dameron & Count Basie, Duke Ellington, Thad Jones, Charles Mingus, and Oliver Nelson. Special guest flutist, saxophonist, percussionist, vocalist and mandolin player Mixashawn brings his "Ghostly Trio," featuring Wesleyan Private Lessons Teacher Pheeroan akLaff on drums and Bill Arnold on percussion, plus special guest Jay Hoggard on vibraphone.