CFA Arts Administration Intern Monica M. Tinyo '13 spoke with Nicholas Orvis '13, a Theater major with a concentration in directing, who is in the midst of his honors thesis, a production alongside a paper focusing on Shakespeare's "The Tempest" (Dec. 6-8) and what it means "to die well" on and off stage in Western Europe during the Renaissance.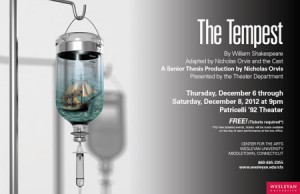 What enticed you about Shakespeare's The Tempest?
"My paper is about the act of dying well on Medieval and Renaissance stages. I started with the realization that the language in The Tempest is similar to [that used by contemporary] long-care terminal patients. Beginning with the language, I started exploring what it means to die on stage in Shakespeare's time. Part of the paper is arguing that The Tempest mirrors what Shakespeare and his audience would have considered the correct way to die."
"The concept of dying well has changed tremendously since the Renaissance. The paper starts with the morality plays in the Middle Ages which were very prescriptive, allegorical descriptions of how to die well. There is then a major shift, that I think Shakespeare and his culture are in the middle of negotiating between the old, universalist Catholicism and newer, rigorous Protestantism. The debates over predestination caused panic. [People wondered,] 'How can we ensure that when we are dying, we are going to Heaven and leaving a good legacy on Earth?' It was a time of social and religious upheaval. Instead of the universalism previously accepted, the question was then how does an individual person ensure a good end? Because of the Protestant shift, the two realms of social afterlife and literal afterlife were beginning to blur."
Officially England was Protestant during Shakespeare's life but Nicholas explains, "many argue that Shakespeare was a closet Catholic; no one is sure what Shakespeare was personally." What is clear is that religious debates manifest in Shakespeare's plays.
"Current theater and culture at large has seen an interesting shift where we are no longer willing, at least publicly, to make judgment on what is a good or bad end. I am thinking of the [contemporary] play Wit, which is inevitably about the process of dying but refuses to make any qualitative judgments on whether the protagonist is dying in a good way or a bad way. The focus is on the struggle to stay alive rather than the negotiation with death." This is because "as a whole, we live a more pluralistic, religiously divided society…[so there is] less room for people to make dogmatic statements [about how to live life and how to die well]."
Why do you think Shakespeare can still resonate with a contemporary audience while still being so specific to his time?
"Think of Shakespeare's Tempest like a spider web; it has all these different strands. One is religion. There is also politics, pop culture, the new world, colonialism. What we are doing [in our production] is just pulling at one strand of that web and looking at it very closely. I think [Shakespeare] is universal because he always has all these strands going on simultaneously."
"Our production of The Tempest is using [only] four actors, all of whom are masked except Prospero." Nicholas and his cast are focusing on the "negotiation between Prospero securing a future for his daughter with Ferdinand and reconciling the war within himself and with his brother, the King of Naples and all these other people who have done him wrong. We have not added anything; everything in the production is Shakespeare's words but we removed minor lords that have only a few lines, knowing we could either have someone else say the lines or it could be ignored all together."
If those characters and subplots were able to be cut without hindering Shakespeare's ideas, why are they even there? Shakespeare was so deliberate; how could something be extraneous?
"First of all, we are focusing on one strand in The Tempest. The Tempest has many subplots about power and usurping power which are all very interesting, but they are not crucial to this question of how the individual comes to terms with other people and himself. Also the way in which the play is written reflects the traditions of Shakespeare's time—the Shakespearean audience expected that if there was a king on stage, even if he was shipwrecked, he would be accompanied by well dressed servants and such. Our modern audience doesn't miss these markers of status."
"The Tempest is usually very lavish and exotic. Our production is stripped down. Our magic is usually a very small moment instead of fireworks and people flying through the air."
You keep using the term "we"—would you say this production is a collaboration?
"I tend to be democratic as a director. Also this is the first time that I am working on a script as a director that I am also editing myself so [the team] has been very useful in rehearsals. We have spent a lot of time questioning what lines are needed. The five of us really worked together to make it as precise as possible."
Minimalism seems to be trending recently in traditional modes of performance like opera. Do you think this is true in theater?
"There seems to be a general shift in modern theater away from the old, early twentieth century theater in which there is one scene, the curtain comes down, then the curtain lifts onto another scene, and so on. We have shifted towards the even older tradition of continuous action; there is less theater with long episodic moments. In our production, four blocks, a cloth and the props that the actors carry are the only entities that set the scene—the actors change the scene by moving the blocks around the stage. I wanted to keep with continuous action rather than episodic moments. I firmly believe that, particularly with Shakespeare, one must let the audience focus on action, language and characters rather than setting."
Don't miss Nicholas' thesis production of the timeless—yet always contemporary—Shakespeare's The Tempest!
The Tempest by Shakespeare
A Senior Thesis Production by Nicholas Orvis '13
Presented by the Theater Department
Thursday, December 6 through
 Saturday, December 8, 2012 at 9pm
Patricelli '92 Theater
, 213 High Street
FREE! Tickets required. Tickets will be made available on the day of each performance at the Wesleyan University Box Office. Off-campus guests may call the box office at 860-685-3355 after 10am to reserve tickets to be held in their names until fifteen minutes prior to curtain. On-campus guests must pick up their tickets at the box office. There is a two-ticket limit per person for free ticketed events.