This Friday, renowned jazz pianist and composer, and Wesleyan University Jazz Ensemble Coach, Noah Baerman will present a free concert entitled "Jazz with a Conscience" at the Green Street Arts Center as part of Wesleyan's year-long celebration Music & Public Life. Monica M. Tinyo '13 talked with him about this upcoming show.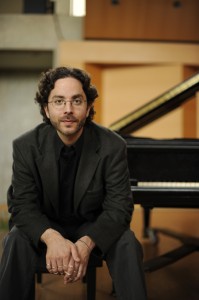 "The concert presents music without lyrics, as vehicles for social consciousness," Mr. Baerman explains. While two pieces will have vocal accompaniment by Jessica Best '14, "the goal is to draw attention to instrumental music as emotionally resonant and capable for social consciousness and change."
"People see the most direct connection between music and social causes in vocal music, thinking in terms of lyrics that are political in nature. Although I do some of that as well, my primary medium is instrumental jazz. The challenge is to evoke the same [emotional resonance of a piece with lyrics] as a piece without lyrics. Although in some ways it's a challenge, it is also an opportunity. The reason I work with instrumental jazz is not because I dislike working with singers or writing lyrics. It is that a lot of what I am trying to express is emotional substance that is difficult to articulate. To me, a big part of why doing music is important or relevant is to express emotions that have no other vehicle for expression."
Mr. Baerman is also participating in the formation of a non-profit called Resonant Motion. He explains, "The premise behind it is to explore and nurture the relationship between music and social causes, personal transformation and other extra-musical content. Music can be a means of raising awareness and inspiring people about causes that aren't themselves related to music, whether it be as simple as discussing the connected cause during a performance or in the liner notes of a recording, or something that is more involved or integrated."
"I had an experience over the weekend that validated the [communicative power of music]. I was asked to play something at a memorial service for my aunt. I took on the task of composing a piece in her memory and honor for this event (I will also being playing it at the concert at Greet Street this Friday). I called it Ripples thinking about the ripple effect of acts that affected people several generations removed from those who came in direct contact with her. I was a little self conscious about how palatable it would be for those in attendance [who did not prefer modern jazz] but it came off very positively. I was surprised by how many people were moved by the piece. What that validated for me is how being sincerely and uninhibitedly emotional with what you are trying to communicate can break through barriers of what people believe their stylistic preferences to be. Although this seems counterintuitive in the assumption that the most direct way to communicate with someone is verbal, [music] has a capacity to reach people in a uniquely direct way."
The Green Street Arts Center of Wesleyan University is an ideal setting for Noah Baerman's Jazz with a Conscience. "Green Street offers an eclectic mix of events, exhibitions, classes, and workshops to a diverse population [in a] three-story, state-of-the-art educational facility that includes a sound recording studio, black-box theater, computer and media labs, and dance and art studios. [It] has grown from a collaborative spirit of Wesleyan University, the City of Middletown, the North End Action Team, and other stakeholders who recognized their community's potential to rise up and become a beacon of change."*
We invite you to become part of Green Street's unique community and join us this Friday at 8pm to celebrate Noah Baerman and his trio partners, bassist Henry Lugo and drummer Vinnie Sperrazza.
*Quotation from Green Street Arts Center's website.
Noah Baerman: Jazz With a Conscience

Friday, November 2, 2012 at 8pm
Green Street Arts Center, 51 Green Street, Middletown
FREE!