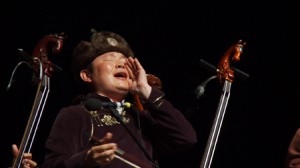 Music concerts at the Center for the Arts are programmed by the CFA's Concert Committee, made up of faculty members, undergraduate and graduate students in Music, and CFA staff. We are so delighted to be opening the Crowell Concert Series with the magnificent AnDa Union, a group of young musicians from Mongolia whose virtuosity and artistry will, quite simply, leave you breathless.
Andrew Colwell, a PhD student in ethnomusicology at Wesleyan whose research focuses on Mongolian music sent me a ringing endorsement after seeing them at a recent stop on their U.S. tour:
"This friendly bunch of established musicians … were a hit with the crowd, who clapped and clapped for more throat-singing, horse-head fiddle playing, and singing about what matters most: nature, horses, your beloved, family bonds, and heritage. Few bands from the Mongolian world of music–which also encompasses independent Outer Mongolia and parts of Russian Siberia–commune with their nomadic roots in the innovative and all-encompassing ways that this highly flexible, ten member band does on the international stage. To boot, few bands from the distant Mongolian grasslands of Inner Asia even make it out as far as Middletown, Connecticut."
The tour has been organized by a group of major research universities in partnership with Arts Midwest and the Chinese Ministry of Culture.  Wesleyan is the only liberal arts college on the tour!
Pamela Tatge
Director, Center for the Arts
AnDa Union
New England Premiere
Friday, September 23, 2011 at 8pm
Crowell Concert Hall
Pre-concert talk at 7:15pm by Andrew Colwell
$22 general public; $18 senior citizens, Wesleyan faculty/staff, and non-Wesleyan students; $6 Wesleyan students