CFA Arts Administration Intern Chloe Jones '15 talks to Benjamin Zucker '15 about the Vijay Iyer Trio, who perform on Saturday, October 11, 2014 at 8pm in Crowell Concert Hall.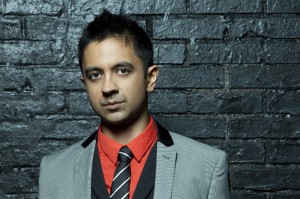 This Saturday, Grammy Award-nominated composer-pianist Vijay Iyer takes the stage in Crowell Concert Hall, along with bassist Stephan Crump and drummer Tyshawn Sorey MA '11, for what promises to be a landmark performance in the history of jazz at Wesleyan.
A 2013 MacArthur Fellow, Mr. Iyer has been named "one of the world's most inventive new-generation jazz pianists" (Guardian), "an American treasure" (Minnesota Public Radio), and "one of the best in the world at what he does" (Pitchfork).
What Mr. Iyer does is complex and multifaceted, innovative and cutting edge. "He's doing a lot," comments Wesleyan Music major Benjamin Zucker '15. "He is literally and figuratively all over the world."
Mr. Zucker met Mr. Iyer this past summer in Alberta, Canada at The Banff Centre's International Workshop in Jazz and Creative Music, an annual three-week program of which Mr. Iyer is the Director. At Banff, Mr. Zucker had the opportunity to study directly under Mr. Iyer.
Mr. Zucker describes Mr. Iyer's music as "intricate, rhythms against rhythms, and repeating figures that layer over each other."
A polymath with a background in math and science, as well as the humanities and the arts, Mr. Iyer received an interdisciplinary Ph.D. in the cognitive science of music from University of California, Berkeley.
"He was studying the cognitive perception of music at U.C. Berkeley at the same time that he was playing in an active jazz scene in San Francisco and Oakland," says Mr. Zucker. "He is someone who has thought a lot about what music can do and how we can get it to do what it does."
In addition to his background in math and science, Mr. Iyer's identity as a South Asian American informs his music. "There is a tradition of Asian American jazz, especially in the Bay Area," explains Mr. Zucker. "But Vijay is at the forefront of a new wave of multicultural jazz and improvisation."
A prolific composer, Mr. Iyer has released an astonishing eighteen albums over the years. His first album with the Vijay Iyer Trio, Historicity, came out in 2009 and quickly became one of the most influential and acclaimed albums in contemporary jazz.
"The trio is a very cohesive whole," comments Mr. Zucker. "It really is a full give-and-take with everyone providing their own contribution to the overall rhythm."
Mr. Iyer and the Vijay Iyer Trio speak to the ever-changing and dynamic nature of jazz music. According to Jazzwise Magazine, "The Vijay Iyer Trio has the potential to alter the scope, ambition and language of jazz piano forever."
Mr. Zucker will give a pre-concert talk at 7:15pm this Saturday, October 11, 2014, prior to the performance at 8pm in Crowell Concert Hall.
Vijay Iyer Trio
Saturday, October 11, 2014 at 8pm
Crowell Concert Hall, 50 Wyllys Avenue, Middletown
$25 general public; $22 senior citizens, Wesleyan faculty/staff/alumni, non-Wesleyan students; $6 Wesleyan students