CFA Arts Administration Intern Chloe Jones '15 talks to Emma Sherr-Ziarko '11 (Theater), Stage Manager/Video Operator for The Builders Association, who present the Connecticut premiere of "Sontag: Reborn" on Thursday, October 2 and Friday, October 3, 2014 at 8pm in the CFA Theater. 
How did you become involved with The Builders Association?
Through Wesleyan actually. I met them my senior year when they came and did a workshop. [Actor Moe Angelos and Video Designer Austin Switser presented the talk "Inside The Builders Association: Integrating Media and Performance" in February 2011 in CFA Hall.] Austin Switser came to my Media for Performance class. I never anticipated that I would work with them because at the time I wasn't particularly interested in multimedia theater or multimedia performance. That has since changed.
[After graduating] I decided that I wanted to move to New York and pursue theater. Acting is actually my passion and what I'm most interested in, but when I got to New York—and this is where Wesleyan comes in again—my friend Rachel Silverman '09 (Theater and Sociology) who had graduated [from Wesleyan] two years before me and who was working for New York Theatre Workshop emailed me and said that they were bringing this show with The Builders Association called Sontag: Reborn to New York Theatre Workshop and needed a Production Assistant.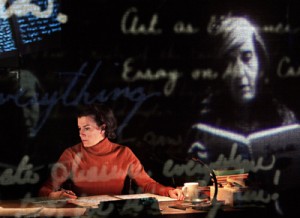 So I became the Production Assistant, and I got to know Moe Angelos who is the performer and adapter for Sontag: Reborn. I spent a lot of time with her backstage running lines. I also took control of the set, which is not big but is very complex because there are hundreds of books and notebooks and everything has to be in a very precise order.
And then at the end of our run at New York Theatre Workshop, the Managing Director for The Builders Association, Erica Laird, came up to me and said that they had been invited [to bring Sontag: Reborn] to a festival in Seoul, Korea in October 2013, and would I be interested in joining them for that. I said, "Yes!"
It's been very humbling and incredibly inspiring to see these artists work. They are totally brilliant, and I do believe they are changing the way that people think about theater.
Where did the idea for Sontag: Reborn come from?
Artistic Director Marianne Weems knew Susan Sontag, and Susan had been on the board of The Builders Association. [Then] Moe started reading Susan's journals—her son [David Rieff] had published them after her death—and thought, you know, this could be a really cool thing and not your average one-woman show.
So Moe brought the idea for Sontag: Reborn to The Builders Association?
Yes. This show was Moe's brainchild, [but] the way The Builders Association works is incredibly collaborative. I'll give you an example of that: This show has a script, but they don't always have set scripts, so then what happens is Austin Switser, the Video Designer, starts playing with stuff, and [Lighting Designer] Laura Mroczkowski starts playing with lights, and [Sound Designer] Dan Dobson is like a magician creating music—it's unbelievable. They literally jam together to create the world of the work. It's unique. It's exciting. And it's exciting to be a part of.
Does any of that collaborative, and at times spontaneous, process of making the work carry over into the final performance?
Absolutely. For example, this show is actually a dialogue. It's a one-woman show, but it's really a dialogue between Moe and a video. As you will see, if you come to the performance, there is a piece of recorded video footage that is Moe as older Susan Sontag in dialogue with live Moe [playing a younger version of Susan Sontag]. I run the video footage of old Sontag. Basically there's a mini keyboard that controls the video footage, and I essentially speed it up and slow it down according to Moe's performance, so it's a live performance.
What is it like to be an actor in The Builders Association?
I've spoken with Moe a lot about that and it's very different because you are constantly interacting with the multimedia aspects, especially in this show where there are no other actors. All she has to respond to is the video, the lights, the sound, and the other aspects of the video design.
Can you describe the sound score for Sontag: Reborn?
It's music and sound effects composed by Dan Dobson with other pieces that are referenced by Susan Sontag. Dan's a genius. He is one of the original members of the Blue Man Group. If you sit around during lunch breaks in the theater, that's when he jams and creates this music. It's unbelievable.
Is this a typical show for The Builders Association?
I would say that this is actually an unusual subject matter for The Builders Association. It's basically a portrait. In many of the other Builders Association shows there's more of a commentary, or at least some political aspect. For example, House / Divided blends the story of The Grapes of Wrath with the housing crisis. There's a lot of intermingling of classic texts and contemporary socio-economic political issues, which there isn't in Sontag: Reborn.
It's a portrait of a life, or a part of a life, and the goal with it was to examine how this amazing intellectual mind became herself. You don't get a lot of her philosophy in this show, and we don't use much of her fiction or essays. There's a little bit of it, but it's mostly from her journals [and] examining how she became who she was as a person.
What was your reaction the first time you saw Sontag: Reborn?
I thought it was totally beautiful. It is totally beautiful and incredibly compelling. It's a fascinating show because it examines how Susan Sontag's mind evolved from age fifteen when she was reading more books than I will likely ever read in my entire life, discovering her sexuality and what it meant to be a woman in the time that she was growing up, and battling with her intense intellect.
How do you expect Wesleyan students will respond to the show?
I really feel like this piece is going to appeal to Wesleyan students because Susan Sontag is fiercely intellectual in a way that I think Wesleyan students—at least from my experience—are encouraged and challenged to be. I think most students here can relate to her struggle against her intellect, as a driving force in her life, and how she didn't want to let that consume her.
Outside the Box Theater Series
The Builders Association—Sontag: Reborn
Based on the books Reborn and As Consciousness is Harnessed to Flesh by Susan Sontag, edited by David Rieff
Connecticut Premiere
Thursday, October 2 and Friday, October 3, 2014 at 8pm
CFA Theater
$25 general public; $22 senior citizens, Wesleyan faculty/staff/alumni, non-Wesleyan students; $6 Wesleyan students
Presented by the Theater Department and the Center for the Arts. Co-sponsored by Wesleyan's English Department and Writing Programs. Additional support provided by the Doris Duke Charitable Foundation's Adaptive Capacity Program.