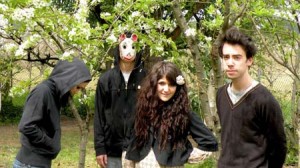 In the summer of 2009, Associate Professor and Chair of the Theater Department, Cláudia Tatinge Nascimento, attended a festival of contemporary European performance at Centrale Fies, a venue that invests in the creation of new performance work located just outside of Trento, in Northern Italy.  There, she discovered Dewey Dell and was so taken by their work, their process and sheer talent, that she wanted to find a way to bring them to Wesleyan for an extended residency.
Formed in 2007 by Teodora, Demetrio, Agata Castellucci and Eugenio Resta, Dewey Dell's founders grew up as artistic collaborators, sharing the important formative experience of the Stoa, a rhythmic movement and philosophy school of the Sociètas Raffaello Sanzio based in Cesena, Italy. The name Dewey Dell is a tribute to the young girl in William Faulkner's 1930 novel, As I Lay Dying.
Nascimento wrote to me upon her return from Italy:
"Dewey Dell is the strongest representative of what is most innovative and sophisticated in the new generation of European stage artists. They perfectly integrate the actor's bodies, visual elements, and soundscape to create performances that may at first resemble pure dance, but ultimately possess a dramaturgical treatment that brings them closest to theater. Through the exploration of themes ranging from an Eastern perspective on raw animal energy to an abstract interpretation of Western political history in the figure of Richard the Lionheart, their performances are at the same time nostalgic and deeply marked by post-modern art. Visually stunning and musically powerful, above all their pieces create a truly arresting experience for the audience."
The Theater Department and Center for the Arts joined forces with Ellen Nerenberg, Professor of Italian and Chair of the Department of Romance Languages and Literature, to create a two-week residency for the company that includes the presentation of à elle vide, the earliest work in their repertoire, and Cinquanta Urlanti Quaranta Ruggenti Sessanta Stridenti, their most recent work.  In between the two performances, the company members will be visiting with five different Italian classes and conducting a seven-day workshop on their generative process with theater and dance students.  At the same time, the members of Dewey Dell, who are close in age to Wesleyan students, will be experiencing life on an American campus.
Nascimento says, "my objective for their residency is to allow for a true exchange between Dewey Dell and Wesleyan students; the company is not only teaching a workshop, but also attending classes, eating at USDAN, socializing with students, meeting as many members of the Wesleyan community as possible; in short: establishing relationships and experiencing the university as maybe exchange/international students would."
Pamela Tatge
Director, Center for the Arts
Dewey Dell: à elle vide
United States Premiere
Friday, September 9 and Saturday, September 10, 2011 at 8pm
Patricelli '92 Theater
$10 general public; $8 senior citizens, Wesleyan faculty/staff, non-Wesleyan students; $5 Wesleyan students
Dewey Dell: Cinquanta Urlanti 
Quaranta Ruggenti Sessanta Stridenti
United States Premiere
Friday, September 16, 2011 at 8pm
CFA Theater
$18 general public; $15 senior citizens, Wesleyan faculty/staff, non-Wesleyan students; $6 Wesleyan students