We invited Hari Krishnan, Artist in Residence in the Dance Department, to write to us about Sunday's performance by Rama Vaidyanathan.  Here's what he said: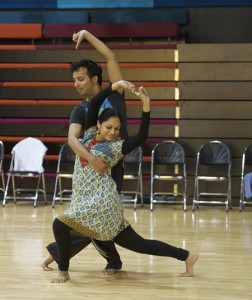 Rama is a leading Bharatanatyam dancer from her generation in India today. Through sheer hard work and constantly creating new innovative dances, Rama has transformed the traditional solo dance of Bharatanatyam into a vibrant, dynamic and engaging solo dance style – current and relevant for a 21st century global audience. This is why she is much sought after by the most avant-garde theaters/festivals in Europe to the most conservative classical arts-friendly venues in India. Rama's Bharatanatyam cuts across linguistic, social, political and cultural boundaries.
Rama is also a dear friend and I remember in the summer of 2010 when we were on the teaching faculty for a dance residency in the U.K., the students had insisted that we perform together. Not having prepared any piece, we improvised right there and then a nouveau-Bharatanatyam duet to the delight of all present.
Being a contemporary dance and Bharatanatyam dance artist myself, I wasn't too sure if Rama would be game to improvising a duet with me involving close physical touch. I was struck at Rama's versatility not only to passionate collaborate but also boldly bringing her art into new experimental terrains while still maintaining her identity of that of a classical Bharatanatyam dancer. She is able to bring out the inherent beauty of the Bharatanatyam form with her creativity and genuine love for the dance.
I am delighted Rama is performing at Wesleyan with her team of stellar musicians [vocalist Indu Sivankutty Nair, violinist Vikram Raghukumar, K. Sivakumar on nattuvangam, and Kalapurakkal Arun Kumar on mridangam], offering her dazzling, highly individual brand of Bharatanatyam. Wesleyan is truly in for a treat of innovation, grace and pure joy – a Bharatanataym 21st century gazelle will be strutting her stuff on the Crowell Concert Hall stage this Sunday afternoon.
35th annual Navaratri Festival
Rama Vaidyanathan: Bharata Natyam
Sunday, October 30, 2011 at 2pm
Crowell Concert Hall
$15 general public; $12 senior citizens, Wesleyan faculty/staff, non-Wesleyan students; $6 Wesleyan students
We invited B. Balasubrahmaniyan, Adjunct Assistant Professor of Music, to write to us about Saturday night's performance by T.M. Krishna.  Here's what he said: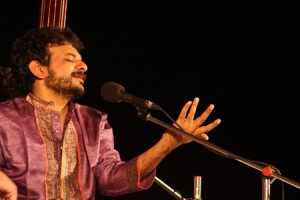 Krishna is a vibrant musician of South Indian classical Karnatak music. He is young, but very senior in artistry of this music. I have been listening to him since he was a teenager.  His ability, confidence and perfectionism keep him busy.  He spent years learning from the great masters Seetharama Sharma, Chengalpattu Ranganathan and Semmangudi Srinivasa Ayyar. His training combined with pure passion and hard work brought high acclaim at a very young age.  His recent work as a Jugalbandi performer with North Indian musicians is one more step to popularize South Indian classical music in the northern region.
In addition to his musical artistry, he is a also a renowned teacher and scholar.  He is a Founding Trustee of Jnanarnava Trust, an organization devoted to the research, documentation and archiving of the ancient traditions in Carnatic music. In 2006, the trust launched its Audio Archival Project of the Sangita Sampradaya Pradarshini. This text, published in 1904 in Telugu, is of seminal importance in understanding the changes and developments in Carnatic music over the past 200 years. This was the first text that gave an authoritative and comprehensive notating system to Carnatic music.
He is noted for performing and teaching in remote areas for people who have not been exposed to Karnatak music. He's also an expert at spotting rural talent and giving musicians the opportunity to learn and perform through his trust.
[T.M. Krishna will be accompanied by HK Venkatram on the violin and Trichy Sankaran on the mridangam.]
35th annual Navaratri Festival
T.M. Krishna
Saturday, October 29, 2011 at 7pm
Crowell Concert Hall
$15 general public; $12 senior citizens, Wesleyan faculty/staff, non-Wesleyan students; $6 Wesleyan students.

Haveli India will present a bountiful meal, from appetizer to dessert, in World Music Hall at 5pm before the T.M. Krishna concert. Tickets, which include both the dinner and the concert, are $25 for the general public; $22 for senior citizens, Wesleyan faculty/staff and non-Wesleyan students; and $13 for Wesleyan students.