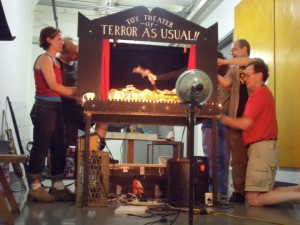 Tonight and Saturday night, the Theater Department and the Center for the Arts present Great Small Works, a New York-based theater collective that creates work about contemporary issues. CFA Intern in Arts Administration JoAnna Bourain '12  interviewed co-founder Mark Sussman '85 about his time at Wesleyan and about the production you'll see this weekend.
JoAnna Bourain '12:  Great Small Works' website lists the company's major influences, many of whom I've encountered in my coursework at Wesleyan, namely Walter Benjamin, Bertold Brecht and Erik Satie. Tell me about some of your Wesleyan classes that influenced your creative process.
Mark Sussman '85:  At Wesleyan I was a double major in Theater and Religion. The theater side of my education was mostly in directing and design and I knew that after Wesleyan I didn't want to join the workforce of the American Theater. After working in a collaborative setting at Wesleyan with groups like Second Stage I knew I wanted to have a company and to work collectively in a series.
I bring from my own years at Wesleyan an interest in working in a more collective situation- this comes from the late Fritz DeBoer (Theater Department) who really inspired me. Certain experiences that I had in the Music Department along with the atmosphere within that department were really important to my creative development – both experimental music and world music. Susan Foster and Alvin Lucier co-taught a class that was essentially about site specific performance art, as well as a class by Jon Barlow who taught the work of John Cage and Erik Satie that brought together a really interdisciplinary vision of art. These classes helped me to make connections to my experience in theater. All of those experiences have stuck with me and help me to inform my every day creative processes.
JB:  Your website cites that Benjamin's theory of the 'state of emergency' was an early catalyst for the first miniature theater piece. Considering the group's beginnings in Bread and Puppet (a Vermont-based political theater company directed by Peter Schumann, who is speaking in CFA Hall on April 9) how do politics figure in Great Small Works?
MS:  I think we imagine everything that we do as having a political aspect. I think the reason that we are really drawn to Benjamin (who I first read in a tutorial in the Religion Department) was due to the fact that he looked at both aesthetics and politics and their inseparable relationship. If you look at something like the Republican Primary, we see that images play such an important role in how people are politically perceived. In Benjamin's essay, The Thesis on the Philosophy of History, he talks about the notion of a Marxist view of history in which a state of emergency is used to encourage and create the rhetoric of a crisis where, actually, that state of emergency is a constant in capitalism. It's a falsification to even think of it as a momentary state of emergency rather than a constant. That idea was we eventually applied to the toy theater.
Jenny Romaine, during the first Gulf War in the late 90s, remembers how the war was portrayed as a catastrophe day after day, and was filtered through us in the everyday banal act of opening The New York Times. The idea was to communicate this sense of every day terror as it is read in banal everyday actions.
The toy theater is an outmoded form that is low tech, handmade and has associations with folk theater.  It was a form we rediscovered from 19th century Europe that was a popular amateur form you would perform in the home.  It was something kids and adults would do together. Very often the scripts were melodramas from London's West End. The popularity of the form coincided with colored lithography and with mass communication and mass culture; it's a form that existed between printing, book making and puppetry.
JB:  Can you talk a little bit more about translating this particular process, a form that has more associations with the home than with the high-theater, into an actual show? I have read that you use a camera to project the miniature theater onto a screen in order to show the piece larger. This process creates an interesting tension between what the form stands for historically and what it becomes on the stage.
MS:  We started these [miniature theater] shows before we were even a company. We found that using the toy theater was a quick and easy way to talk about big ideas- there is a weird inverse relationship between the scale of the show and the ideas. In [Toy Theater of] Terror as Usual, one of the shows we will be performing, we see the performers operating the puppets. In a lot of puppet shows you never get to see the puppeteers. You see us operating the puppets, singing and talking and making sounds. That Brechtian act of revealing the performers is a big part of the show. I think that still works when we use the video camera and the projection when we are creating it before you. The image is taken apart and constructed in front of you. For an audience, this shows how history is created and constructed.
JB:  Why do you think that it is important that people see Great Small works?
MS:  It's interesting and fun and unexpected. It is interesting how you see an idea and stories. Much of traditional theater expresses characters differently than we do – we present a story within a larger set of ideas with an analysis. We provide a visually appealing message and a way to comprehend and digest complicated ideas in an accessible form.
Great Small Works
Friday, February 3 and 
Saturday, February 4, 2012 at 8pm
CFA Hall, 287 Washington Terrace
Tickets: $15 general public; $12 senior citizens, Wesleyan faculty/staff, non-Wesleyan students; $6 Wesleyan students

Each performance will be followed by a post-show discussion.
Cassandra Burrows, John Bell, Trudi Cohen, Jenny Romaine and Xavier will perform the works "Short, Entertaining History of Toy Theater"; "Toy Theater of Terror As Usual, Episode 12: Desert and Ocean", a surreal serial drama using excerpted texts and images quickly cut from The New York Times, Hans Christian Anderson, Grace Lee Boggs, and Democracy Now!; and "Three Graces", a "cantastoria" (picture-based storytelling work) in which three mythical graces – Harmony, Strategy and Splendor – float down to earth for an op-art romp inspired by Grace Paley, Grace Kelly, Grace Jones and Grace Lee Boggs.