Center for the Arts Director Pamela Tatge discusses the Spring Faculty Dance Concert with Artist in Residence Hari Krishnan.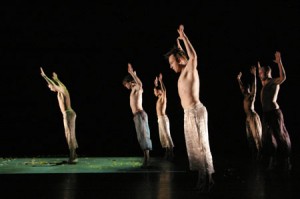 If you've not encountered Wesleyan's Artist in Residence, Hari Krishnan, you must.  He came to Wesleyan's Dance Department in 2001, and since then has developed a real student appetite for bharata natyam (South Indian classical dance) on our campus.  What is less known about Hari is that he is the Artistic Director of one of Canada's most respected dance companies:  Toronto's inDANCE.  Wesleyan presented the American debut of this company in 2006 [during the annual Navaratri Festival that October] and since then, inDANCE has made its New York debut and has been presented by performing arts centers around the world.
You'll have the chance to see inDANCE again this weekend at the CFA Theater when nine male dancers from the company will perform U.S. premiere of Quicksand, hailed by Michael Crabb of The Toronto Star as "rambunctiously provocative work…a techno-hip, strutting declaration of freedom from the constraints of tradition and conventional sexuality."
"Quicksand" will be followed by the world premiere of "Nine", which depicts Navarasa, the nine archetypal emotions popular in Indian classical dance, choreographed on dancers from Wesleyan Dance Department's repertory and performance course. "Nine" almost serves as a kind of backstory for "Quicksand."
When I met with Hari yesterday, he said the evening is an exploration of a single idea from two perspectives, two languages, the classical and the post-modern.  Taken in its totality, the program serves to enmesh two aspects of his choreographic life that have, at times, been at odds with each other.  He's the Artistic Director of a major contemporary dance company and a professor of classical Indian dance, so respected that he was asked to perform at the prestigious Music Academy in Madras this past January.  "'Quicksand' is a personal manifesto of sorts….its feeling is free and liberating…it uses the traditional form as a springboard to create a personal dialogue relevant to today, and asks the question, how current can you make the traditional feel?" "Nine" reveals the classical bharata natyam take on these emotions.
Hari's dancers arrived on Tuesday night and have put our students through their paces by taking over the Modern I-III classes. This weekend, students in Wesleyan's Institute for Curatorial Practice in Performance will also have the opportunity to meet Hari, discuss his work, and see his performance.
Spring Faculty Dance Concert
Friday, March 2 & Saturday, March 3, 2012 at 8pm

CFA Theater

$6 Wesleyan students, $8 all others