On Saturday March 10, the 13th annual DanceMasters Weekend Showcase Performance will feature the work of Camille A. Brown & Dancers. Center for the Arts Intern JoAnna Bourain '12 interviewed Camille A. Brown about her creative process and her upcoming performance.

JoAnna Bourain '12: How does your creative process work? Why are you drawn to certain subject matters? Do you derive your creativity from your own everyday experiences or is it more abstracted and observational?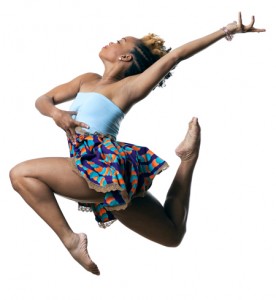 Camille A. Brown: My process is different for every piece that I create. I believe that the space is a living organism, so it's important to have some sort of spontaneity when creating a new work. Sometimes I'm immediately drawn to music, a singer/composer/musician, or something that I've heard or was suggested that I research. From there, the music inspires the movement. Other times I have an idea in my head that I decide to explore in space. To be honest, the latter is harder because, now that I have the 'perfect' image in my head, the task is to marry the movement and concept with music. It must align perfectly! Since I love injecting aspects of theater in my work, I bring in an actor and dramaturge with whom I have close relationships to work with the company to fully portray characters with integrity. We have acting classes, group discussions; we allow these things to inform where the piece goes. It also challenges me to look at the work objectively. Having those extra sets of eyes from a different perspective is a jewel.
The dancers give the work breath. I am greatly influenced by their choices in space, their approach to the movement, how they grow within the work, making it their own. Their connection to space, the earth, their spirit. It all helps to show individuality within the ensemble works that I create.
As a choreographer, I am interested in that space between dance and theater where interdisciplinary work defies category and takes flight. Music is one of the main driving forces of my work. As an artist, it is imperative that I "drink" the music and move in a way that is the music. For me, there is no separation in my understanding of choreography; I move seamlessly between music, theater and dance. Informed by my music background as a clarinetist, I create choreography that utilizes musical composition as storytelling. I love investigating the silent space within the measure. Singers also influence me — how they each use their vocal tone and modulation informs me in how to use my body in creating multiple levels of expression.
I am interested in telling stories beyond just dance. I have always been fascinated with history — the past, the everyday lives of my ancestors. I love exploring an "understanding" of their lives, tying history to my personal experiences and bringing those things to life. I build dance vocabulary from a very personal place. Characters are facets of my life; my experience is a lens into the past and the present. The work of the company is strongly character based, expressing whatever the topic is by building from little moments, modeling a filmic sensibility.
The work comes from both personal experiences and observational ones. I am generally a private person, so most of the time you will not be able to pinpoint what is my true story versus the observational one. They're kind of one-in-the-same. I like moving through concepts — becoming a character, and allowing my personal experiences to give a unique, personalized breath to the voice. I inject the personal in the pockets of storytelling.
JB: I have been watching your work online over and over again trying to pin down what is communicated to me in your choreography and performance. Words that come to mind are:  power, speed, dynamism, narrative, communication, theater, history. If you had to choose words or messages that you try to communicate in your work, what would they be?
CAB:
Conscious
Theatrical
Unrestricted storytelling
Narrative
Earthbound movement
Spatial exploration
Dynamics
Weight shift
Plié- oh how I love the plié!
Celebrating history with a direct connection to the present
Communication
Healing
Release
Satire/humor
Spunk
Sass
Attitude
Peace
JB: Why do you think people should come to the performance?
CAB: This is a hard question because the answer I give will obviously be from a subjective place. Dance is what I live and breathe every day. It's my movement through space and life as a whole. I would say people should come to the show to get an intimate view of who Camille is — who Camille A. Brown & Dancers are. Hopefully they will see our personal stories and that will provoke them to share their own. This is what sharing your work is about. I am looking forward to introducing my voice to Wesleyan.
13th annual DanceMasters Weekend Showcase Performance
Saturday, March 10, 2012 at 8pm

CFA Theater
$27 general public; $20 senior citizens, Wesleyan faculty/staff, non-Wesleyan students; $8 Wesleyan students
The DanceMasters Showcase will feature performances by Pilobolus, Camille A. Brown & Dancers, and Garth Fagan Dance. Ms. Brown is the 2012 winner of the Mariam McGlone Emerging Choreographer Award. Ms. Brown will be teaching a Master Class at 1pm on Saturday in the CFA Dance Studio.