On Saturday March 10, the 13th annual DanceMasters Weekend Showcase Performance will feature the work of Garth Fagan Dance.  Nik Owens '12 interviewed Garth Fagan about the upcoming performance.
Nik Owens '12: How did you get started in the dance world?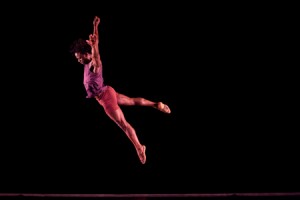 Garth Fagan: Well, way back in high school in Jamaica, someone got injured for a Christmas show that was being put up, and my gymnastics coach suggested that I fill in. I did – and everyone said I was the best thing since 'sliced bread'; I was just doing what my partner for the show was telling me to do.  Afterwards, this same partner said I should take dancing lessons.
Next thing I knew I was dancing with a company in Jamaica. They were able to travel to places that I couldn't go and they had access to resources that I didn't have at the time and, as a result, I moved to the States and attended college at Wayne State University in Detroit, Michigan.  Pat Wellings, a professor at Wayne State at the time, helped me choreograph my first piece called Contemplation. This piece was done in silence, which in the '60s was quite daring and bold.  The daring and boldness that I had was characteristic of many young people in the '60s. It was a great piece.
Later on, I joined Dance Theater of Detroit and was a principal soloist and choreographer with them.  I had a junior high school boys' dance company at the time as well.  All of these things helped to establish the foundation for Garth Fagan Dance.  Since then, I've choreographed for New York City Ballet, Limón Dance Company, Alvin Ailey American Dance Theater, and other companies as well.
NO: Your website mentions that some of your greatest influences as an artist are Pearl Primus and Lavinia Williams.  What about their work most influences you during your choreographic process?
GF: I danced with Lavinia Williams (who was Sara Yarborough's [a highly esteemed dancer with Alvin Ailey American Dance Theater] mother). She gave me a truly strong sense of the movement of the back as well the use of polyrhythms.  Pearl Primus taught me about learning things QUICKLY and at a very fast pace.  She would have a rehearsal in the morning, run it again in the afternoon, and then have the performance at night. Both Lavinia Williams and Pearl Primus were Caribbean women, which helped to make my learning experience and my relations with them even stronger. Other teachers included Martha Graham, who taught me about discipline; José Limón, who taught me about the importance of looking at your roots and heritage; and Alvin Ailey, who was one of the most important people I've ever met.  He helped me with my confidence as an artist as well as giving me money to get started in the world of dance in America.
NO: What aspects of the Caribbean tradition do you covet most in your works?
GF: Mostly the polyrhythms, polyrhythms with ease. In Jamaica it's usually pretty hot (86 degrees underneath a tree) so we always do things with ease. You see polyrhythms oozing all over the place. But I'm really and truly a diehard modern choreographer.  However, I do have a lot of ballet in my work, but even then I stretch from it.
NO: What made you decide to start you own dance school?
GF: I wanted to see certain things on stage that I wasn't seeing anywhere else.  I love the speed of ballet but wasn't going to be in dances about swans and princesses.  I love the polyrhythms from the Caribbean.  I love the weight of modern dance. And I love the issues that postmodern dance deals with.  I wanted to see all of that combined on stage.
NO: Which works will you be presenting during DanceMasters Weekend at Wesleyan University on Saturday, March 10, 2012?
GF: I will be featuring two works at Wesleyan: Talking Drums by Vitolio Jeune, and Thanks Forty, which celebrates Garth Fagan Dance's 40th anniversary. This work features Steve Humphrey, Lindsay Renée, Shannon Castle, and Norwood Pennywell (who is the rehearsal director for Garth Fagan Dance as well a Bessie Award recipient).
13th annual DanceMasters Weekend Showcase Performance
Saturday, March 10, 2012 at 8pm


CFA Theater
$27 general public; $20 senior citizens, Wesleyan faculty/staff, non-Wesleyan students; $8 Wesleyan students
The DanceMasters Showcase will feature performances by Pilobolus, Camille A. Brown & Dancers, and Garth Fagan Dance.  Natalie Rogers-Cropper of Garth Fagan Dance will be teaching a Master Class at 11am on Saturday in the CFA Dance Studio.