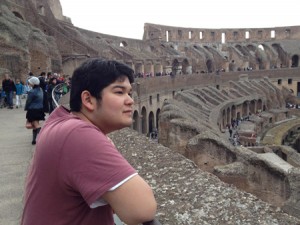 Center for the Arts Story: I rarely was an actual student in the Center for the Arts. I didn't take any art, dance, or music classes during my time at Wesleyan. However, that didn't mean that those things weren't important to me. I wanted to be involved in the arts at Wesleyan and so I made my way to the CFA job fair. It was something of a joke last year but in the four years I was at Wesleyan I spent nine days not under the employ of the CFA, and five of those days were freshman orientation. My time at the CFA was stressful, hectic, and demanding but the entire time it was a labor of love and it's opened my eyes to completely different things. I remember my first Navaratri Festival vividly as well as my first Gamelan concert.
Specifically, I think my most striking CFA memory was having my mom and grandfather here before he passed late last year. My going to college was very special to him and I wanted him to see me at Wesleyan. During that visit we saw Jay Hoggard's jazz orchestra, a Gamelan, performance, as well as a Korean drumming performance. I remember it rained quite a bit that weekend but we didn't let any of that keep us down. When I thought to myself that this might be the only opportunity for my grandfather to see what a place like Wesleyan can offer in terms of diversity and still reflect my own interests my first thought was to the CFA.
A specific show that really sticks out in my mind was Urip Sri Maeny's last show. It was also the last performance I was managing with the CFA. I spoke to her before the show and aside from doing my normal house manager duties I told her that I was honored to be working her last performance as Artist in Residence. I told her that it was also my last show and we both hugged and teared up a bit. Seeing the rush of people that came in that night really gave me the feeling that I was at something important, not just to the Wesleyan community, but important very deeply in the hearts of the attendees.