Summer at the CFA
July 1-20, 2014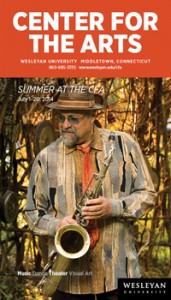 EVENING PERFORMANCES
1. Zili Misik – Wednesday, July 2, 7pm, CFA Courtyard (Rain Location: Crowell Concert Hall), FREE!
2. Camille A. Brown & Dancers – Friday, July 11, 8pm, CFA Theater (Connecticut Premiere)
3. Joe Lovano Trio Fascination with special guest vocalist Judi Silvano – Thursday, July 17, 8pm, Crowell Concert Hall (World Premiere)
FREE AFTERNOON TALKS AND PERFORMANCES
4. Banning Eyre: Tales from the Afropop Road – Bringing the World to American Public Radio – Tuesday, July 1, 12:10pm, CFA Hall, FREE!
5. James Grashow: Art and Cardboard – Tuesday, July 8, 12:10pm, CFA Hall, FREE!
6. Aaron Jafferis: How to Change the World with Hip-Hop Theater – Tuesday, July 15, 12:10pm, World Music Hall, FREE!
7. This is It! The Complete Piano Works of Neely Bruce: Part III – Sunday, July 20, 3pm, Crowell Concert Hall, FREE!
Tickets for Camille A. Brown & Dancers and Joe Lovano Trio Fascination with special guest vocalist Judi Silvano are on sale now online!