CFA Arts Administration Intern and DanceLink Fellow Chloe Jones '15 talks to dancer Lucy M. May of Compagnie Marie Chouinard about their upcoming performances at Wesleyan on Friday, February 6 and Saturday, February 7, 2015 at 8pm.

I close the heavy door softly behind me and cautiously step forward into the dark theater. On stage a woman rehearses a solo. She is tall and slender and dances with startling grace. Her long limbs slice through the space, she stops suddenly, pirouettes. With each movement she communicates something—her whole body speaking, from her gesturing hands to her quick feet. She is fierce and beautiful, every cell of her body alive and articulate.
I have come to Hanover, New Hampshire as a Wesleyan DanceLink Fellow to see Montréal's Compagnie Marie Chouinard perform, and I have just walked into dress rehearsal. When the dance finishes, the lights come up in the theater and the company members gather on stage. They go over a few notes with the rehearsal director before heading back to their hotel to prepare for the night's show. I can hardly wait for them to take the stage again.
Described by The New York Times as "a hurricane of unbridled imaginativeness," Compagnie Marie Chouinard was founded by choreographer Marie Chouinard in 1990. Today the company tours all over the world.
The company first came to Wesleyan in September 2008 to perform the United States premiere of Orpheus and Eurydice. This weekend, they return to campus with the New England premiere of Gymnopédies (2013) and the Connecticut premiere of Henri Michaux: Mouvements (2005-2011).
Set to music by French composer and pianist Érik Satie, Gymnopédies began as an exploration of the duet form. "She knew she wanted to work with these erotic duets between two dancers," says company member Lucy M. May. "That was really the first thing we did in the studio: improvise two-by-two, different couples."
In the process of creating the work, Ms. Chouinard decided she wanted each dancer to learn Mr. Satie's Gymnopédies and play it on the piano as part of the performance. Many of the dancers had never played the piano, but gradually, with lessons and practice, they all learned. In the finished work, the dancers take turns at the piano bench, their live music adding to the work's curious sensuality.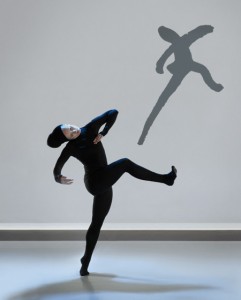 Henri Michaux: Mouvements began in 1980 when Ms. Chouinard came upon the book Mouvements (1951) by Belgian writer and artist Henri Michaux (1899-1984). Inspired by the book's abstract ink drawings and 15-page poem, Ms. Chouinard decided to use it as a choreographic score.
"She brought all of the images into the studio," says Ms. May. "We had photo copies of all the drawings, and some of them were hanging on clotheslines and others were in big piles of paper all around the place, and we spent a really intensive two weeks making all sorts of different compositions. We were exploring all the possibilities of what we were seeing."
This literal translation of image into movement is augmented by costumes and set. Clothed head-to-toe in black, the dancers perform on a white floor against a white backdrop so that the stage becomes the book.
Mouvements was one of the works I saw performed at Dartmouth this past September. I was blown away. The dancers' ability to recreate the ink drawings with their bodies is truly amazing—a dazzling exactitude.
"There's a balance between a high level of demand—of precision and detail and rigor—and then this amazing amount of freedom," says Ms. May of Ms. Chouinard's work.
Indeed Ms. Chouinard's choreography strikes me as simultaneously precise and reckless, raw, free. The dancers move with extreme clarity—so much of the choreography impossibly intricate, detailed, and fast—yet there is something of abandon in their performance, something intensely wild.
As I watched the performance that evening at Dartmouth, I was riveted by each dancer, each movement, each moment. My eyes did not drift once from the stage. My mind never wandered. I found myself fully immersed in the world of each dance.
They are strange worlds, exciting and new and daring.
Compagnie Marie Chouinard
Friday, February 6 and Saturday, February 7, 2015 at 8pm
CFA Theater
$25 general public; $22 senior citizens, Wesleyan faculty/staff/alumni, non-Wesleyan students; $6 Wesleyan students
Pre-performance talk by DanceLink Fellow Chloe Jones '15 on Friday, February 6, 2015 at 7:30pm in CFA Hall.
Dine/Dance/Discover on Saturday, February 7, 2015 at 5:30pm in Fayerweather Dance and Theater Studios—add $15 to your regular ticket price. Click here to purchase Dine/Dance/Discover online.