Write a story (500 words max) about when you crossed a geographic border, or a border of any kind. Where did it lead you? What insights did you have?
Then, post your story on the Center for the Arts Facebook event page for 17 Border Crossings, and you will receive a free ticket to the performance. The story with the most "Likes" by midnight on Wednesday, February 18, 2015 will win a $200 travel gift certificate courtesy of Sanditz Travel Management in Middletown!
How to post your story:
1. Go to the Facebook event page here.
2. "Join" the event.
3. Under "POSTS," where it says "Write something…" cut and paste your story.
4. Hit the "Post" button.
If you don't have Facebook, but would like to participate, please e-mail your entry by midnight on Wednesday, February 18, 2015 to boxoffice@wesleyan.edu.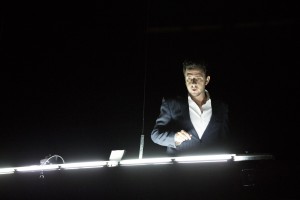 Outside the Box Theater Series
Lucidity Suitcase Intercontinental: 17 Border Crossings
Connecticut Premiere
Saturday, February 21, 2015 at 8pm
CFA Theater
$19 general public; $17 senior citizens, Wesleyan faculty/staff/alumni, non-Wesleyan students; $6 Wesleyan students
The Connecticut premiere of 17 Border Crossings, a solo work written and directed by Thaddeus Phillips based on his travel experiences. The audience is taken to the frontiers of countries around the world in a humorous and poignant examination of imaginary lines, arbitrary passports, and curious customs.
An Outside the Box Theater Series event presented by the Theater Department and the Center for the Arts.