CFA Arts Administration Intern Chloe Jones '15 talks to graduate student Maho Ishiguro about the Connecticut premiere of "Tari Aceh! (Dance Aceh!)" Music and Dance from Northern Sumatra, taking place on Friday, February 27, 2015 at 8pm in Crowell Concert Hall.

After many months of planning and overseas communication, the Center for the Arts is delighted to welcome to campus a group of nine female performers from Aceh, Indonesia on their first-ever tour of the United States.
Between the ages of 14 and 24, these young women study dance at Syiah Kuala University in Banda Aceh, the capital of the Aceh province on the western Indonesian island of Sumatra. The dances they practice were originally performed only by men, and in some districts of Indonesia it remains forbidden for women to perform them.
At Wesleyan, the group will be making their Connecticut premiere as part of the fifteenth annual Breaking Ground Dance Series  as well as Muslim Women's Voices at Wesleyan.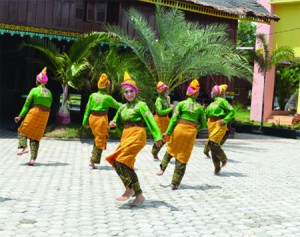 The dances to be performed have been passed down from generation to generation, and contain a great deal of history and tradition. Accompanied by percussion, the performers add to each dance's striking musicality with their own rhythmic body percussion, and the singing of both Islamic liturgical and folk texts. These dances are some of the best illustrations of the transcultural blending of Islamic and Indonesian culture.
It has been ten years since a devastating tsunami hit Aceh, killing 200,000 people. The performance of Tari Aceh! celebrates the resilience of the people of Aceh, and a new generation of young women whose performance of these traditional dances are contributing to the recovery efforts in this part of the world.
To learn more about the performing arts in Banda Aceh, click here to watch a video that Wesleyan ethnomusicology graduate student Maho Ishiguro put together while visiting Syiah Kuala University last year.  She traveled there after receiving a Fulbright Hays Doctoral Dissertation Research Abroad Fellowship to study the female Saman dance in Indonesia.
While in Banda Aceh, Ms. Ishiguro had the chance to interview all of the dancers. You can get to know some of them here.
Ms. Ishiguro will join Ari Palawi, the Program Coordinator at the Syiah Kuala University's Center for the Arts, to give a pre-performance talk on Friday, February 27, 2015 at 7:15pm in Crowell Concert Hall.
On Thursday, February 26, 2015 the dancers will lead a free dance workshop, open to all experience levels, at 6:30pm in Fayerweather Beckham Hall. Click here to watch a video for a taste of what you might learn in the workshop.
Ms. Ishiguro told me a little about Saman dance, and the dancers of the Syiah Kuala troupe:
"Saman dance (also known as rateb meuseukat and ratoh duek) is one of the dance forms popularly practiced in Aceh province, the northern tip of Sumatra Island, Indonesia.  A number of dancers sit in a row and perform elaborative and fast movements with their hands, heads, and torsos.  The dance is highly coordinated, and its complex choreography includes clapping and hitting the body with the hands, resulting in percussive sounds that add to the performance.  Dancers also sing while dancing.  Texts of songs entail commentaries about nature, love, relationships, politics, and society, as well as religious teachings of Islam. Islamic phrases such as la ilaha illallah ("There is no god but God," a testimony of Islamic faith) and assalamulaikum ("Peace be upon you") are often interwoven within the song texts.  The origin of the dance form is unknown; however, it is generally understood that Saman dance was practiced historically as dhikr, a religious exercise which Muslims, especially those of Sufi traditions, employ to feel the presence and remembrance of Allah.  In Aceh today, Saman dance is a proud cultural heritage. Both female and male dancers practice the form, though separately."
"In the past decade, Saman dance has become highly popularized in Indonesia, as well as internationally, for its unique choreography and the feeling of camaraderie that the dance generates among the dancers.  Most high schools in Jakarta have Saman dance teams as an afterschool extracurricular activity.  Furthermore, many regional and national competitions are held, and the winning teams are sometimes sent abroad for a tour.  Today, Saman dance is not only a cultural expression of Aceh; the dance has transgressed the ethnic and regional boundaries among Indonesians, as it is practiced widely by those who do not share ethnic or cultural heritages with the Acehnese.  In recent years, the dance seems to be on its way towards becoming a cultural expression not just for the Acehnese but for all Indonesians.  There have been a number of Saman dance groups formed by Indonesian students abroad.  In such cases, Saman dance is performed as an Indonesian cultural expression.  In fact, Wesleyan has had a group of students, comprised of both Indonesians and non-Indonesians, who participated in Saman dance practice on campus over the last several years."
"The University of Syiah Kuala is one of the largest universities in Banda Aceh, the capital city of Aceh Province. The dancers of the Syiah Kuala troupe have studied several forms of Acehnese dance since their childhood.  The troupe has performed domestically and internationally.  As part of the Muslim Women's Voices at Wesleyan program, the dancers will be in residency at Wesleyan for several days, hosting workshops and engaging in other activities with students and the Wesleyan community.  One of the most exciting aspects of hosting this troupe is that the dancers are relatively close in age with our students.  We hope that Wesleyan students and dancers will engage with each other at a personal level, deepening cultural understanding through informal and meaningful interactions."
Panel Discussion: Expressing and Contesting Indonesia-Islam Encounters in Performing Arts – Dance and Music in Aceh
Wednesday, February 25, 2015 at 4:15pm
CFA Hall
FREE!
Workshop: Dance from Northern Sumatra
Thursday, February 26, 2015 at 6:30pm
Fayerweather Beckham Hall
FREE!
Tari Aceh! Music and Dance from Northern Sumatra
Connecticut Premiere
Friday, February 27, 2015 at 8pm
Crowell Concert Hall
$22 general public; $19 senior citizens, Wesleyan faculty/staff/alumni, non-Wesleyan students; $6 Wesleyan students
Pre-performance talk by Wesleyan graduate student Maho Ishiguro and Ari Palawi, Program Coordinator, Syiah Kuala University's Center for the Arts, at 7:15pm.