CFA Arts Administration Intern Chloe Jones '15 interviewed Visiting Assistant Professor of Art and Art Studio Technician Kate TenEyck about a project the Center for the Arts is partnering on with John Lyman Elementary School in Middlefield, Connecticut.  
Last year the Center for the Arts teamed up with John Lyman Elementary School, located seven miles from Wesleyan University in Middlefield, Connecticut, to apply for an Arts in Education grant that partners public schools with arts organizations. Out of a total of over 80 applicants, the CFA and Lyman were one of only eight to receive a grant.
The idea for the partnership started when teachers at Lyman had the vision to transform the school's aging, fading walls into blank canvases for students to fill. They envisioned a series of murals, which students would help design and paint.
When Lyman first approached the CFA about partnering on the grant, Director Pamela Tatge knew that Wesleyan Visiting Professor of Art Kate TenEyck should be involved because Ms. TenEyck, in addition to being a gifted artist, is a generous community citizen. But Ms. Tatge didn't know that Ms. TenEyck had attended school in the same regional school district.
Excited about the prospect of collaborating with Lyman, Ms. TenEyck signed on as faculty advisor to the project. She then assembled a team of four students from the Wesleyan Art Department to assist her: Addie McDowell '16, Zach Scheinfeld '16, Virgil Taylor '15, and Sonya Torres '17.
"I couldn't ask for a better team," says Ms. TenEyck. "It's truly the perfect team to be doing this project."
Every Tuesday and Friday, Ms. TenEyck and the Wesleyan students go to Lyman to work with the eighteen students in Phil Moriarty's fourth grade class. Together they are creating the first of the murals made possible by this grant.
"I think for the Wesleyan students it's really nice to go into the community and understand a little more about the place where Wesleyan exists," says Ms. TenEyck. "I think that's a huge benefit."
For Lyman, a Higher Order Thinking School with a strong emphasis on arts integration, it was important that the project be imbedded into the curriculum.
"The subject of the first mural is the school's core ethical values: courage, kindness, respect, honesty, and responsibility," says Ms. TenEyck. "Phil had his students do writings about these values, and they came up with all sorts of wonderful ideas that ranged from very straightforward—'courage is getting up in front of people and performing' or 'responsibility is cleaning up after yourself'—to very abstract."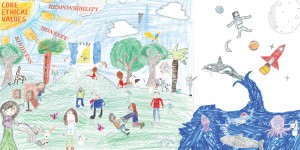 Ms. TenEyck gave a lesson on how visual representation can communicate meaning. As examples, she showed the students a painting by Pieter Bruegel, a print by Kathe Kollwitz, and a sculpture by Tom Otterness. The students then set about drawing their ideas on Lyman's core values. Their images, like their writings, ranged from straightforward to abstract.
One fourth grader came up with the image of a killer whale to represent honesty. Another drew rays of sunshine illuminating a tree and field of grass.
"When you're in fourth grade you're not quite at the point where you're trying to draw realistically, so you draw more symbolically," says Ms. TenEyck. "And your motor skills aren't quite there yet, so between those two things the images tend to be really fabulous and engaging."
The Wesleyan students scanned all the images and, using graphic design technology, cut and pasted a landscape based on the drawings. This composite landscape was taken back to Lyman and projected onto a smart board in Mr. Moriarty's class. Students could go up to the board and physically trace the figures, change their size, and move them around. What the students created became the final composition for the mural.
"The idea is that the kids really are doing it," says Ms. TenEyck. "Not that they do something and then some professional comes in and does it all fancy."
Next, Ms. TenEyck and the Wesleyan students brought in the white boards of the mural, which together measure six feet high by twelve feet wide. They projected the new composition onto the boards and let students trace the images. With the composition outlined, students began painting the mural just last week.
After this mural is complete, Ms. TenEyck and the Wesleyan students will team up with a different class of either third or fourth graders to make a second mural on the topic of math and computation.
Lyman's ultimate goal is to have the majority of its hallways house student-painted murals. The idea is for the building itself to reflect the integration of the arts that is central to Lyman's educational philosophy and school community. The hope is that Wesleyan students, under the direction of Ms. TenEyck or another faculty advisor, will return to Lyman each year to make new murals with new classes.
"There's definitely a sense of pride over the mural," says Ms. TenEyck. "My favorite part was when we brought in the digital version that combined their drawings, and we put it up on the screen. All of a sudden they were just so excited about it, saying: 'That's my killer whale!' and 'There's my tree!'"