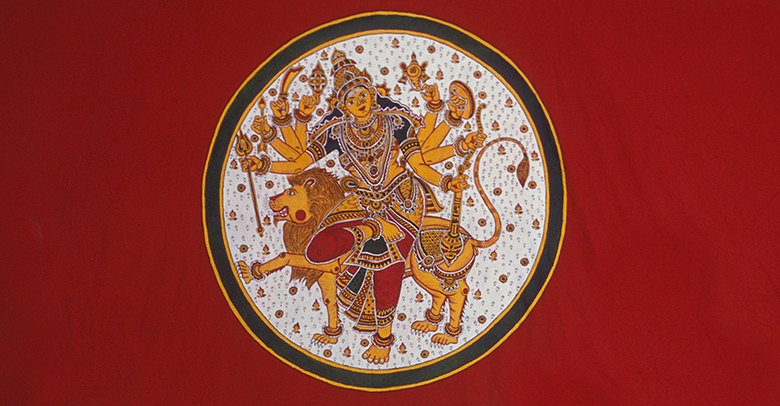 Dear Friends of the Center for the Arts,
This week, Navaratri Festival Intern Aditi Mahesh '21 writes about the annual festival that celebrates traditional Indian music and dance.
Navaratri has long been a vital part of Wesleyan's history, bringing in established Indian artists to celebrate the auspiciousness and showcase the depth of Indian classical art forms. Navaratri, held in the honor of Hindu goddess Durga, is a prominent festival celebrated in India for nine (nava-) nights (ratri). Each day signifies a different avatar of Durga, nine avatars in total (navadurga). On the tenth day, Durga defeats the demon Mahishasura, celebrating the triumph of good over evil, light over darkness. This last day is Vijayadasami or Dussehra, the most auspicious day of the year for beginning a new endeavor, especially in the arts.
Click here to listen to a playlist I created on Spotify of a range of traditional and contemporary, instrumental and vocal devotional songs centered around the three goddesses (Durga, Lakshmi, and Saraswati), ending with Aigirnandini.
Wesleyan's commitment to Indian music, dance, and culture was one of the main reasons I chose to apply to the University. Coming from a family of Carnatic vocal musicians and being an Indian classical Bharatanatyam dancer myself, I couldn't see myself thrive anywhere else. I've taken Bharatanatyam classes from Chair of the Dance Department and Professor of Feminist, Gender, and Sexuality Studies Hari Krishnan, and Carnatic vocals from Adjunct Associate Professor of Music B. Balasubrahmaniyan, giving me both a well-rounded Wesleyan education and a robust insight into the inner workings of the Navaratri festival held at the Center for the Arts each year.
Back in 2017, when I was a freshman, the University brought the distinguished Mallika Sarabhai and her company to perform for the Wesleyan audience. Her work really challenged the traditional notions of Bharatanatyam. It was more than just a dance form; it was a powerful mode of political communication. This very sentiment was reflected in my Bharatanatyam classes with Professor Krishnan, who challenged the 'Brahminical' perspective of the artform, teaching us the courtesan style of Bharatanatyam and instilling in us the powerful responsibility to use our platform for social good (very characteristic of a Wesleyan education!). This deepened my own narrow preconception about the dance form, allowing me to apply my art beyond the walls of the classroom, communicating powerful stories.
On the musical side, Wesleyan has always brought diverse artists, celebrating both North and South Indian musical styles. Last year, we heard from Ustad Amjad Ali Khan on the sarod, who powerfully captivated the audience with his music. We also have our very own talent, Professor Balasubrahmaniyan, who performed on the Friday evening of the festival [with Adjunct Associate Professor of Music David Nelson]. In past years, his South Indian voice class has been an opener to his concert, allowing for Wesleyan students to showcase their learning and play a crucial role in the festival.
The Navaratri Festival not only draws in a Wesleyan audience but also a local Connecticut audience, allowing for greater community interaction and education about Indian art forms.
As a result of the global situation, Navaratri at Wesleyan has adapted to a virtual platform. Despite these challenges, the Center for the Arts is bringing in rich talent while still maintaining its core integrity of social responsibility through the arts. We hope you join us for this year's virtual festival!
Aditi Mahesh '21
Navaratri Festival Intern
Thursday, October 1, 2020 at 4:40pm  Music Department Colloquium with Anna Morcom (Professor of Ethnomusicology and Mohindar Brar Sambhi Chair of Indian Music at U.C.L.A.'s Herb Alpert School of Music): "Music, Exchange, and the Production of Value: A Case Study of Hindustani Music."
Thursday, October 1, 2020 at 8pm "Sakthi Vibrations" Film Conversation with Director Zoe Sherinian. Moderated by ethnomusicology doctoral student Bianca Iannitti. The film will be available for viewing online before the event with a link included with the reservation confirmation.
Friday, October 2, 2020 at 7pm Rethinking "Navaratri." A conversation with Artistic Director of the contemporary Indian dance company Ananya Dance Theatre Ananya Chatterjea and Chair of the Dance Department and Professor of Feminist, Gender, and Sexuality Studies Hari Krishnan.