Wesleyan University's Dance Department honors Artist in Residence Urip Sri Maeny and celebrates her retirement following four decades of teaching Javanese dance. Sofia Warren '13, Press & Marketing Assistant at the Center for the Arts, spoke to fellow seniors Kimberly Ladd '13 and Kelsey Siegel '13 about their experiences studying with Maeny.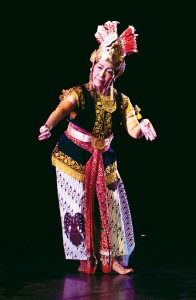 This Thursday and Friday, Wesleyan is celebrating the incredible tenure of Urip Sri Maeny, an Artist in Residence who has taught Javanese dance at Wesleyan for 40 years. Born in Java, Indonesia, Maeny became a dancer of great renown at an early age, performing in the Royal Court of Surakarta, and in major cities all across Indonesia, as well as Hong Kong, Australia, Saudi Arabia, Egypt, Kuwait, Iraq, and Australia. Since coming to Wesleyan in 1972, she has touched the lives of generations of students. I was lucky enough to sit down with two of these students, Kimberly Ladd '13 and Kelsey Siegel '13, whose glowing appraisal of Maeny made me understand, at least in part, the immense impact she has had on the Wesleyan community.
In describing Javanese dance, both Kelsey and Kim emphasize how different this form is from others taught here at Wesleyan. Kelsey tells me that originally, courts in Indonesia considered watching Javanese dancers to be a form of meditation, and would bring in dancers for this purpose. "It's really slow and it's very articulate with your hands," she says, "it's very therapeutic." Coming from a hip-hop background, Javanese dancing was a radical change of pace for Kelsey, but one that Maeny made inviting and manageable. "She introduced me to the culture in a way that was so comfortable for me that I didn't feel like it was something I could never understand. I had no idea what Javanese dance was, but immediately I wanted to be a part of it."
It is apparent from the enthusiasm with which both Kim and Kelsey talk about Maeny how much she has influenced them. When I asked what distinguishes her as a teacher, Kim tells me how willing she is to take time for her students. "She has a really open schedule—she'll come in on a day when she's not teaching to work with you." Kelsey adds that her style is very unique, and one that puts a lot in the hands of the students. "She doesn't need to show you every detail, but she'll do it with you and then correct you at the end. She has a way of not really showing you the movement, but you just kind of do it, and you don't really know how it happens."  Kelsey and Kim both emphasize how it is her care and complete attention to students, as well as her complete understanding of her craft, that set Maeny apart as a teacher.
This week, both Kim and Kelsey will take part in a piece choreographed, adapted by, and featuring Urip Sri Maeny [excerpts from the dance drama "Ramayana"] to be performed at the World Music Hall on Thursday, May 2 at 7pm. "You don't say no to Maeny!" Kelsey laughs, explaining how she became a part of the project. "She's just a brilliant mastermind," Kim adds, and tells me about the mythic narrative dance. "It's this whole drama which she conceived and put together and edited, and brought us all with our different experiences to dance one form. It's really astounding." Maeny's approach to the choreography, all of which is her own, is to let everyone take the dance and put it into their own styles and their own bodies, in a way that is very unifying. As Kim puts it, "she knows the whole story, and we're still discovering how we fit in. But that will happen."
Before I leave her interview, Kelsey tells me her lasting impression of Urip Sri Maeny, which I can't help but to quote at length. "I just have an image of Maeny that will always stay in my head," she says. "It's just me walking into the Center for the Arts and I see her—she's the cutest woman—just running out, and she comes up to me and is always hugging me and kissing me and making me feel so welcome. I'm a dance major and a huge part of being a dance major is Maeny. She's one of the reasons why I feel so safe in this community, and so loved. Just so loved."
Celebrating Four Decades of Javanese Dance: A Retirement Celebration Honoring Artist in Residence Urip Sri Maeny
Thursday, May 2 at 7pm
World Music Hall
FREE!
The celebration begins with a performance of excerpts from the dance drama "Ramayana," choreographed, adapted by, and featuring Urip Sri Maeny in her last production at Wesleyan, with Adjunct Professor of Dance Susan Lourie, undergraduate and graduate students, and Middletown community members; accompanied by the Wesleyan Gamelan Ensemble, under the direction of I.M. Harjito and Sumarsam.
Annual Dr. Cynthia Novack Lecture and Celebration Honoring Decades of Javanese Dance at Wesleyan
Friday, May 3 at 2pm
World Music Hall
FREE!
The annual Dr. Cynthia Novack Lecture will address cultural reconstruction in post-genocide Indonesia with a free talk in World Music Hall by dance scholar, choreographer, and cultural theorist Dr. Diyah Larasati, author of The Dance That Makes You Vanish (University of Minnesota Press, 2013).
The talk will conclude with a tribute to Urip Sri Maeny and the legacy of Javanese dance at Wesleyan by special guests. The lecture and tribute will be immediately followed by a reception and book signing in World Music Hall.