A blog post by Pamela Tatge.
Wesleyan faculty, students and graduate students have a long history of exploring the intersection of visual art and performance. Professor Ron Kuivila tells me that performance artist Charlotte Moorman performed the legendary Nam June Paik's TV Bra for Living Sculpture at the first-ever opening at Zilkha in 1973… featuring a different baseball game on each breast!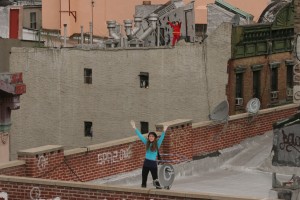 Today I'm thrilled that the Zilkha Gallery will host an opening celebration for the debut of a new exhibition:  Performance Now:  The First Decade of the New Century, curated by RoseLee Goldberg and co-produced by Independent Curators International (ICI) and Performa.
You'll see the work of 19 artists from a vast repository of new performance from around the world since 2000, a period that has witnessed exponential growth in the field. Museums around the world are creating performance departments to increase the presence of performance in institutional offerings and to harness this new energy.
The debut also coincides with the establishment of Wesleyan's new Institute of Curatorial Practice in Performance (ICPP), a post-graduate certificate program that is the first of its kind in the United States.  ICPP brings artists, presenters, managers and other arts professionals together with Wesleyan faculty and some of the finest performance curators working today for a nine-month low residency program. Our students develop a responsive curatorial practice that takes the best from the fields of visual and performing arts. Performance Now is an important show to integrate into this year's ICPP curriculum, while also resonating with community members and many of our undergraduate and graduate arts students interested in exploring contemporary performance practices and their social and historical contexts.
Beginning with the Futurists in the early 20th century, performance art has sustained and expanded its presence in artistic communities but only recently has its history and practice begun to be articulated and discussed. The lack of discussion in the past may very well be related to the difficulty of defining and categorizing performance art, a form that is situated in an ambiguous space between visual and performing arts.
Among the "must sees" in the exhibition are the works of Jennifer Allora and Guillermo Calzadilla, Omer Fast and Marina Abramović, all of which are presented here as video documentation of live art performances. Allora & Calzadilla's piece Stop, Repair, Prepare: Variations on Ode to Joy, No. 2 presents a restructuring of the prolific symphony "Ode to Joy" in which the performer plays from a hole cut from the inside of a piano, creating two inoperative octaves, while moving around the exhibition space. The piece facilitates discussion on music and sound as well as a reassessment of "Ode to Joy" historically and politically. Omer Fast's Talk Show, inspired by the childhood game "telephone," is a social critique and personal exploration of communication and its universal malfunctions. In Talk Show, a person tells an actor a personal story (that connects to larger political themes) on stage that the actor must then recount to another actor; the audience watches the story change as it is recounted. In Marina Abramović's Seven Easy Pieces, the artist "re-performs" seven performance pieces that were originally presented in the 1960s and 1970s by six artists (two pieces were Abramović's) in New York's Guggenheim Museum. The piece is presented as a multi-screen video installation documenting the seven performances of Seven Easy Pieces.
During the run of the exhibition, we'll have a number of special events including a film series curated by Wes alum Lana Wilson '05, a panel of Wes alums currently engaged in performance art, and a lecture by RoseLee Goldberg.  For a complete listing of events, please visit: www.wesleyan.edu/performancenow