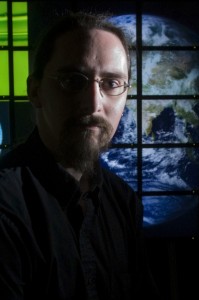 In my years at Wesleyan, the majority of my life was spent lurking behind the scenes around the CFA. I played a role in virtually every theater and dance production and good number of the music performances as well. While I had good relationships with my professors, and I was part of a number of interesting performances, what remains with me is the time I spent working and, well, not working, with Nelson Maurice and Charlie Carroll and their occasional co-conspirator Mark Gawlak. They were, if you can pardon a Star Trek reference, my Boothby. I considered them to be both mentors and friends.  I think working with Nelson during a summer program on campus is what convinced me to come to Wesleyan in the first place. They provided the connections that got me first an internship at the Goodspeed Opera House and then later my job with fellow alum John Cini at High Output in Boston. It is even my connection with Charlie that led to my wife and I getting together.  I certainly learned a lot about technical theater and practical problem solving working with them—skills that continue to serve me well long after I left the theater. Of course, Nelson would be the first to admit that he didn't keep up with the technology, and in the end I think I was teaching him things, but the great thing about him was that the reversal never seemed to bother him. He was more like a proud grandfather than a teacher trying to maintain intellectual dominance, and I really respect him for that, especially now that I am a teacher myself.
But for all that, what I remember most is the quiet times, just hanging around the shop listening to them gossip and tell jokes of variable quality, or sitting up in the booth teaching Nelson how to navigate the nascent Internet so he could look up web pages about Panama, Maine, peddle cars and Moxie. I gained from them a certain pragmatism that is lacking in many theatrical environments (and elsewhere). They worked hard, but they never took anything too seriously – nothing is really an emergency, and there is a fix for everything. Of course, this led to one of my fondest memories, watching Nelson emerge onstage and start sweeping the stage in the middle of a curtain call because it had been a long day and he was ready to go home. For all their pragmatism, and the admittedly hard time they gave anyone who came in range, they are some of the Good Guys, dedicated to what they do, and above all dedicated to their students.
This was my Wesleyan.