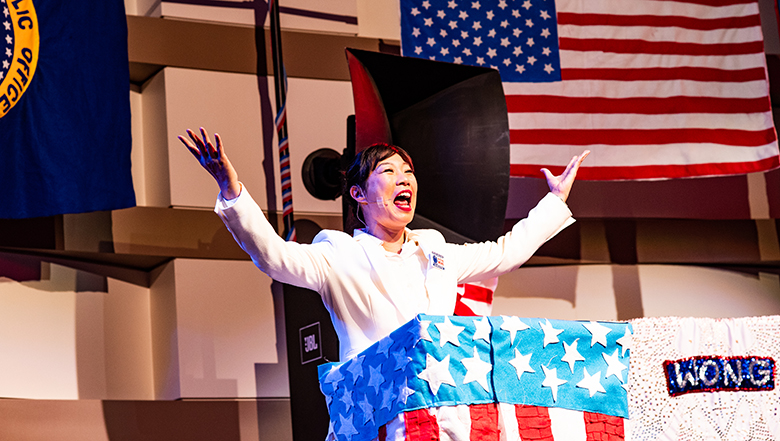 We are excited to open the 2020-2021 Performing Arts Series this fall with the extraordinary theater-maker, performance artist, writer, cultural commentator, and satirist Kristina Wong. 
Wong is an activist artist dedicated to forging meaningful social change, interrogating heteronormative standards, subverting racial and gender stereotypes, challenging complacency, and empowering audiences—a model for the values that we hold here at the Center for the Arts. 
Wong began her career as an activist and performance artist in 2000 as a senior at U.C.L.A. with her fake mail-order bride site www.bigbadchinesemama.com. This internet performance installation was Wong's first experiment to see if "the act of protest [can] actually be funny and enjoyable." This philosophy, and her approach of using humor, parody, and satire to expose painful truths about race, class, gender, and the fallacy of the American dream is central to Wong's work. She followed this inaugural work with projects such as Wong Flew Over the Cuckoo's Nest (2011–2013), which explored the stigma surrounding depression and rates of suicide in Asian-American women, and The Wong Street Journal (2015–2017), which broke down the complexities of global poverty, privilege, and America's influence in the world while charting Wong's own brief role as a hip hop star in Northern Uganda. Her YouTube channel, Radical Cram School, encourages Asian American children to explore revolution, social justice, the power of their identities through puppets, community storytelling, and comedy. 
During a time when civil liberties are being eroded on a daily basis, our nation is convulsing with protests over police brutality and systemic racism, and our healthcare system and federal response to the pandemic is in tatters, Wong's voice is needed more than ever. She is a remarkable example of an artist who is responding in real time to the current moment and who is also translating her community activism into art and performance. What an extraordinary model for Wesleyan students and our audiences to have.
At Wesleyan, she will present two shows for us this fall. On Thursday, September 10, 2020 at 7pm, Wong will perform Kristina Wong for Public Office which details her real-life experience running for office in Koreatown, Los Angeles. Blurring the lines between performance and politics in a way that has become all too familiar, Wong re-enacts her campaign for elected representative of Wilshire Center Koreatown Sub-district 5 Neighborhood Council. A mash-up between a campaign rally, church revivals, and a solo theater show, the piece explores the anxiety leading up to the 2020 presidential election, questions the differences between performance art and politics, and challenges audiences to get civically engaged. Public Office will be co-presented with the University of Massachusetts Amherst Fine Arts Center.
Wong joins us again on Monday, October 5, 2020 at 7pm for a performance borne from the COVID-19 pandemic: Kristina Wong, Sweatshop Overlord. Wong charts the experience of creating a "homemade face mask empire in just ten days," gathering together a sewing squad of volunteer "Aunties" making free masks for people "the government didn't care about." The Auntie Sewing Squad has been featured on NBC News, Good Morning America, and USA Today, and has made and distributed over 50,000 masks. This performance looks at the significance of Asian American women and women of color performing this historically gendered and racialized, invisible labor.
Wong will also join Wesleyan students for a virtual residency that includes class visits, career talks, open rehearsal/directing sessions, and one-on-one conversations with students doing senior theater capstone projects. Finally, on Tuesday, October 27, 2020 at 6pm, Wong will give a speech about the intersections between her political activism and her art for Wesleyan's Engage 2020 initiative with the Allbritton Center for Community Partnership. 
Our Performing Arts Series this fall will be virtual, and all events will be free. We hope you join us for an inspiring series of events and performances with this extraordinary activist and artist Kristina Wong. 
Fiona Coffey
Associate Director for Programming and Performing Arts
Center for the Arts
Kristina Wong Residency Events at Wesleyan