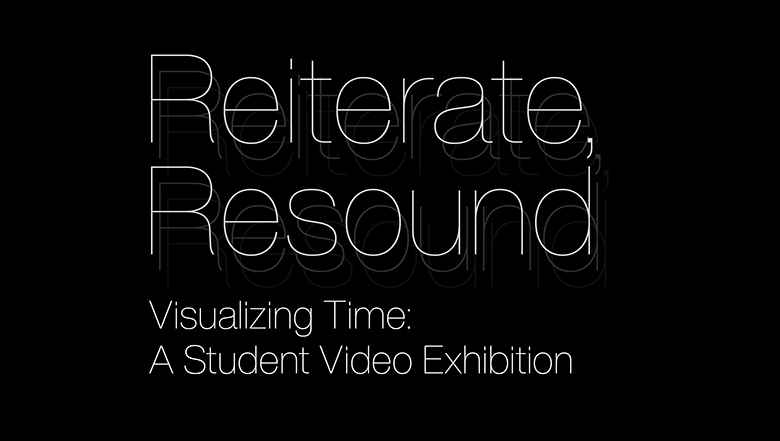 In dialogue with the exhibition A SCULPTURE, A FILM & SIX VIDEOS, currently on view in the Main Gallery of the Ezra and Cecile Zilkha Gallery, the videos in Reiterate, Resound capture a variety of perspectives on the nature of time. Each of the video submissions for the show responded to the prompt circulated in the spring of 2020: "in this moment, what does time mean to you?" Staged by two student curators, Maya Hayda '21 and Nia Felton '21, Reiterate, Resound emerged as a response to this prompt as well as a curatorial interlocutor with Six Videos. The exhibition features recent video works by six student artists and is on view in the Zilkha South Gallery until Friday, October 23, 2020. Zilkha Gallery Exhibitions Intern, Paul McLaren '21, engaged the curators in a conversation about the exhibitions thematic content, and the process of organizing a group show featuring student work.
Paul McLaren: Can you share a little bit about the process of organizing the exhibition? How did you select, organize and curate the videos?
Maya Hayda: In August, we were approached by Ben and Rosemary and asked to curate this show from a group of about 30 videos, submissions from current Wesleyan students and recent alumni. The prompt had already been circulated in the spring, and so we were presented with all of the submissions and really an open ended task of pulling together what the exhibit would become. We were given access to view the Six Videos content, and additionally we each did some readings on video art, just to get our bearings on the medium, its history and its potential to address this larger theme of time. Nia and I then both watched the videos separately, and came together a few times to discuss our initial reactions and then to piece together a cohesive, formally interesting and thematically relevant show. For me at least, it was really important to include works that were making formal investigations into this idea of time, its cyclicality, and its effect on our lives, along with more narrative or thematic explorations of the prompt. 
After organizing the initial exhibit, we also wanted to give an opportunity for the artists to speak about their work to a wider public, since there was no opening reception due to COVID regulations. We hosted a Facebook livestream with four of the six artists, and it was a great chance to hear more about the pieces in addition to the current and future projects the artists are working on. Overall, I think it was pretty successful and I hope that everyone can check out the videos streaming on Vimeo this month! 
PM: How do the videos you selected relate to and build off one another? 
MH: I think there's a strong connection in all of the videos which connects this idea of time to identity, and the ways in which the past may inform the present and future. There's this consistent theme of cyclicality which occurs both symbolically and formally in repeating images and sounds. Videos like Ayat's Dawra (which translates to cycle) show this cyclicality quite beautifully through repeated sounds, including lyrics like the song "going to the chapel and we're going to get married" paired with repeated visuals like the hot wax brings about this idea of how our existence and self-hood is shaped by patterns and ingrained cycles in many ways. Then there's also Alessandra's video, On Conversations with our Fathers, which shows cyclicality in reckoning with trauma (either from events like 9/11 or the emergence of the pandemic or the trauma of dealing with racism) through symbolic and literal layering of family photos within the frame in addition to audio clips recollecting stories. I think each of the videos present a different voice in relation to time, but each remains bound up in this duality of repetition and evolution as the artists speak to their own lives and in their own practice mark themselves as active participants within this current moment. Although each of the videos shows how time passes, I think the very act of creation allows for this intervention which insists on the importance of hearing and seeing each of these voices in the present, and hopes to resonate into the future. 
NF: I don't want to talk too much about what I think each video means because that right should be given to the artists first and foremost but I think the videos we chose all deal with time in a very intimate and interpersonal way even if the thesis of the videos vary. That intimacy I think is the greatest way the videos build off of each other. Just as an example, the conversations the artists, Alessandra Rizzo and Yichen Zhang, have with their parents is so incredibly poignant.
PM: In the description for Six Videos, curator Ben Chaffee writes, the videos "connect a deep mystical time to the present tense, visualize cycles, and reach into the future for the potential it may hold for transformation." What's the relationship, both thematically and materially, between Reiterate, Resound and Six Videos?
MH: One important, albeit somewhat obvious connection, between the two exhibits is their use of video to address this idea of time. Unlike photographs, sculpture, or painting, I think that video is perhaps one of the best formats to think about time and our relation to it. There's something about how video allows for movement, which is not present in a photograph, which I think speaks to how video is able to connect the past to the present and "reach into the future." Moments are not presented as fact, or as "document," but as fluid and inherently connected to other moments, images or frames of reference. In terms of theme, I think that the videos in Six Videos are also in dialogue with this idea of cycles within our lives and social contexts and allow for deeper consideration of these repetitions. Videos like Prodger's Birdgit and Kahn's Stand in the Stream offer a look into the intimate connections between an individual lives and their presence in time, in a similar way to Alexa's Eileen speaks to the the life of the named "Eileen" as someone who is negotiating an identity that is being constantly shaped by those around her and the landscape she inhabits. Another connection between the two exhibits is this idea of hope and faith in futurity, and its ability to learn from the past and present moment in order to evolve into something better. In Six Videos, this motif is exemplified by the "Green Ray," which has this generational allure of mysticism and largely relies on the belief of the viewer to become actualized. Although Reiterate, Resound does not have a literal "green ray," I think that the videos touch on similar notes of generational legacies and stories and how they inform the present. By recording instances from the past and the present and showing them in video there's a kind of agency in both exhibits which allows for an understanding of where we are coming from and t simultaneously a place for the artists and viewers alike to move forward into the future. 
NF: During the curating process, we spent most of our time with the submitted videos and the prompt and not so much with Six Videos although we were told what Six Videos was about and what artists were featured. However, I do think authenticity is a shared theme between the art featured Reiterate, Resound, and Six Videos.  
PM: Is there a particular urgency that you feel the exhibition has given the current climate? What about video?
MH: When the prompt went around, I think there was an urgency to negotiate our relation to time, particularly for students. It's like we've been on this trajectory our whole lives, through childhood, moving through college, and then all of a sudden in the middle of the semester time stops, we're all sent home and the threat of mortality looms in our face as this strange virus takes hold of the nation. I think the urgency of the videos points to a need to respond, and take initiative to define a voice in this particular time in order to not feel hopeless or completely without agency given the context of pandemia, violence, the effects of climate change, etc. This takes forms in a few different ways in the exhibit—for example you have Yao's video (Along the River) which is a direct response to being quarantined in a hotel room and negotiating that "captive" space by looking and filming out the window as a point of connection. Alexa's Eileen also addresses the pandemic more directly. In addition, there's Ben's Video,  Imagine transcend love, which I think very powerfully affirms that despite our current situation and our organic, mortal, decaying bodies, everyone has the potential to transcend with acts of love and care. 
NF: I'm a bit unsure what you mean in this question. We did feel pressure to watch all the videos, take notes, and make decisions about the exhibition because we were called on during the late summer and the show was scheduled to go up in September. However, I think the art in the exhibition is not temporal. The horror of the pandemic may only be experienced by a few in terms of human history but the art created during this time is an important part of the preservation of human experience.    
PM: How do the videos you included resists, singular definition of time? I'm thinking about the Elizabeth Grosz quote you included in the exhibitions description: "Time has a quality of intangibility, a fleeting half-life, emitting its duration-particles only in the passing or transformation of objects and events, thus erasing itself as such while it opens itself to movement and change. It has an evanescence, a fleeting or shimmering, highly precarious 'identity' that resists concretization, indication or direct representation."
MH: I think we often perceive time as moving perpetually forward. It's something that "passes" and as people we are simply flowing in the stream. These videos challenge that idea through their emphasis on cyclicality, bringing us back to repeating moments that are fleeting and changing but very much inform the present. One video I'm thinking about in particular is Kyron's Gentrify Express, which addresses a changing landscape of home through this formally rigorous format. We see the repetition of the subway doors opening and closing and the flow of commuters inside the frame of a compact mirror. The video starts close to the mirror and slowly zooms out, and as viewers we watch these scenes of transit and movement occurring over and over again. You can't "capture" any of the moments in the video, which I think reflects how a process like gentrification has this kind of "evanescent" quality in public memory, as a process which happens, passes many of us by and that we don't necessarily register until it is "past," or "completed." Kyron's video brings attention to this transience and highlights through repetition that maybe we need to pay more attention and not just be passive actors in time. In another example, Alessandra's video is also highlighting this "shimmering" or "evanescent" quality of time by using ephemeral objects (family photographs) in addition to recordings of family stories (which is in itself a time-dependent act). These objects and recordings/stories  have a "lifespan" as material objects but their placement in the video resonates with how their effects extend past this determined lifespan and continually inform our present and future. 
NF: I think that each video has distinct theses about time and that inherently makes them resistant to a singular definition of time. However, to illustrate that more clearly and using examples from artists we spoke to during our Zoom talkback: when a viewer watches Alessandra Rizzo's video I hope that they feel the genuine and justified fear of Spring 2020 when the future was made entirely obscured in a way that it never would have been without a pandemic. In contrast, Ben Schneier's video is a hopeful take on time, the future, and human advancement.