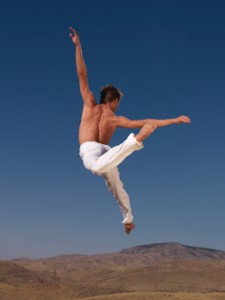 It's not often that the CFA features ballet, but when we do, we focus on companies who are contemporary, whose vibe and energy is of today.  Trey McIntyre Project is that company – they burst onto the scene only four years ago, and since then have become a touring sensation, traveling the country, and now the world, at least 22 weeks of the year.  And when they are not on the road, they are at their home in Boise, Idaho.
McIntyre is a choreographer who came out of the Houston Ballet and then became a free-lance choreographer working with many of this country's leading ballet companies.  When it was time for him to start his own company, he didn't decide to base it in New York or San Francisco – he decided instead to intentionally become engaged with a Western city who needed an arts infusion:  Boise, Idaho.  As we work with our students here at Wesleyan on how to use the arts as a vehicle for community engagement and social change, we welcome a company that is doing just that: dancing in hospital cafeterias, factory lounges and schools, demystifying ballet and growing an audience that now considers the Trey McIntyre Project to be their own.
Trey McIntyre Project is not only engaging with their home community, they are also engaging with the world.  The company was chosen by the U.S. Department of State and Brooklyn Academy of Music as one of four American dance companies to participate in DanceMotion USA and will tour to China, South Korea, the Philippines and Vietnam in spring 2012 serving as a U.S. Cultural Ambassador.
Tonight and tomorrow night at Wesleyan, they'll dance to music by Roy Orbison and the New Orleans Preservation Hall Jazz Band – they are an intensely physical, joyous company in which each dancer is allowed to bring their personality onto the stage. Come and join us!   And P.S., the CFA Theater is air conditioned.
Trey McIntyre Project
Thursday, July 21 & Friday, July 22, 2011 at 8pm
CFA Theater
Center for the Arts
Wesleyan University
$22 general public; $19 senior citizens, Wesleyan faculty/staff; $10 students
Pamela Tatge
Director, Center for the Arts