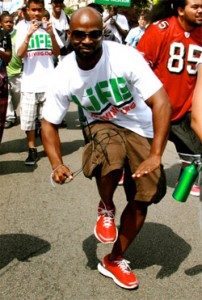 When I first saw Marc Bamuthi Joseph at New York's Under the Radar Festival in 2005, I was struck by the fact that Marc is a spoken word artist who uses his whole body, his whole being to speak.  He is one of the few spoken word artists whose poetry is matched by his capacity as a dancer and mover, so that his body can serve as either a metaphor for his words, punctuate his words or even fight his words.
He is truly a hybrid artist and activist: a Broadway veteran, a National Slam Poetry Champion, a featured artist in Russell Simmons' Def Poetry Jam and founder of The Living Word Project, a company based in Oakland, California that creates verse-based work that is spoken through the body, illustrated by visual and sonic scores, and in communication with the important social issues and movements of the immediate moment.
In Marc's words:
"I experience God as a verb, not a noun. I experience art in the same way. The music doesn't live on a flat disc, it lives in the thing it does to your hips. So it is with my writing. I compose for embodiment. I write words with the intent to live it through movement. At the end of Song of Solomon, [Toni] Morrison writes, '…if you surrender to the air, you can ride it.' If words are my air, dance is my surrender. In the intersection of movement and text, the collapsed space for breath to speak is like a different kind of oxygen. I am intellectually piqued by the physical journey it takes to meet the spiritual place I wish to occupy."
Tonight at the CFA Theater, audiences will have the opportunity to see excerpts of three of his major works, Word Becomes Flesh (2003); the break/s (2008); and his newest work, red, black and GREEN: a blues (2011).  Hope you can join us!
Marc Bamuthi Joseph: The Spoken World
Thursday, July 14, 2011 at 8pm
CFA Theater
Center for the Arts
Wesleyan University
$15 general public; $13 senior citizens, Wesleyan faculty/staff; $10 students
Pamela Tatge
Director, Center for the Arts