Center for the Arts Director Pamela Tatge reflects on the many events that have taken place this week.
Monday, April 2, 2012: 
I had some wonderful conversations, emails and phone calls from students and community members who attended Chunky Move over the weekend.  I will say that I thought it was one of the most successful integrations of visual art and dance that I've ever witnessed, and I was particularly pleased that Gideon Obarzanek said he's never seen Connected look better than it did in the CFA Theater.  For those of you who were there, thank you for supporting this important performance.
We sent out letters of acceptance to the Class of 2013's Institute for Curatorial Practice in Performance the same day we found out that the program will be receiving its first grant from the National Endowment for the Arts!
Tuesday, April 3, 2012:
I had lunch with Gillian Goslinga in Anthropology and Jill Sigman, Center for Creative Research Visiting Artist to hear about "Ritual, Health, and Healing", the course they are co-teaching in Dance and Anthropology as a part of the Creative Campus Initiative.  It's also a Service Learning Course and so they are taking their students to St. Nicks Alliance in the Williamsburg neighborhood of Brooklyn on three Saturdays to conduct research with residents. It will culminate on Sunday, April 22, 2012 as a series of student performance works are presented alongside Sigman's Thinkdance installation at St. Nicks.  See a reflection by one of the students in the class, Hannah Cressy '13, here.
Wednesday, April 4, 2012:
I attended the opening of the beautiful exhibition, Provincial Elegance: Chinese Antiques Donated in Honor of Houghton "Buck" Freeman, a collection of objects donated by Anna Lee '84, that's at the Mansfield Freeman Center for East Asian Studies Gallery through Sunday, May 27, 2012. I was so moved by Patrick Dowdey's story of how Anna made the contribution to Wesleyan in honor of the great spirit that was Buck Freeman, whose family made, and continues to make, so many great things possible at Wesleyan. Jean Shaw, former director of the Center for the Arts, told me that not only did Anna graduate the same year I did, but that Anna worked at the CFA when she was a student!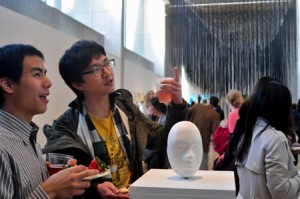 I also attended the second week of the Senior Thesis Exhibitions in the Ezra and Cecile Zilkha Gallery. If you've never taken the time to attend one of the Wednesday receptions from 4pm to 6pm, then you are missing one of the great "scenes" at Wesleyan. Hundreds of students flock to Zilkha to see their fellow students' capstone project.  All of us have the great opportunity to feel the pulse of contemporary art on our campus in all of its many manifestations, from JoAnna Bourain's video animation installation [sometimes its hard 2 b a woman (i c u looking at me!!)] to Alex Chaves' vibrant paintings [casual desire] in South Gallery. Exhibitions continue for the next two weeks, with receptions on Wednesday, April 11 and Wednesday, April 18, 2012.
Thursday, April 5, 2012:
Today I'm on a plane headed to Cleveland to do a site visit of Cuyahoga Community College's Creative Campus project on behalf of the Association of Performing Arts Presenters.  The project features the prolific and generous violin virtuoso, Daniel Bernard Roumain (you may remember him downstage left playing solo violin for Bill T. Jones/Arnie Zane Dance Company's performance in the CFA Theater in 2006). He's written an opera based on Gilgamesh and the composition has been offered on the web to anyone who wants to create their own work using his composition. He has truly democratized the creation process and tonight I'll have the chance to see his ensemble perform alongside faculty, students and community members.
And I want to wish our senior thesis students in dance the best of luck on their thesis presentations in the Patricelli '92 Theater, tonight through Saturday, April 7, 2012 at 8pm.  Click here for more information about the concerts.
It's been a busy week.
Pamela Tatge
Director, Center for the Arts